Rockford Fosgate Focuses on the Experience with SoundLab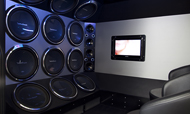 Rockford Fosgate launches "Expect More" tour with the new RF SOUNDLAB demonstration vehicle.

The RF SOUNDLAB is the ultimate high-performance audio demonstration vehicle. Based on a long–wheelbase Mercedes Benz sprinter chassis, RF SoundLab has both a 10,000 watt audio carnival ride, appropriately called THE PRESSURE CHAMBER as well as the SOUNDLAB, an interactive in-car demonstration that gives participants the opportunity to experience Rockford high-performance components in their vehicle.

"The RF SOUNDLAB is all about the Rockford Fosgate experience and demonstrates what's possible with our products," explains David Slepak, Director of Marketing. "Over 10,000 watts of power, twelve PUNCH P3 15" subwoofers, four sets of POWER T1 component loudspeakers, two I-Beam tactile transducers all set to a 3 minute music and LED light show… THE PRESSURE CHAMBER hits all your senses."

After a "ride" in the PRESSURE CHAMBER, The Rockford Fosgate SOUNDLAB is packed with the latest amplifiers, subwoofers and full-range loudspeakers that Rockford offers. Each in-vehicle demonstration unit allows a participant the ability to experience a high-performance audio system in their own vehicle.

"If a guy is looking to add some bass to a factory system or wants to see what a significant increase in power will do through our full range loudspeakers, the RF SOUNDLAB interactive in-car demonstration is an accurate example of how Rockford Fosgate can make any vehicle into high-performance audio listening experience," says Mark Lowe Director of RTTI.

Rockford Fosgate outlined an aggressive campaign this year; "Expect the Unexpected", focused on driving retail traffic into its dealer network. The RF SOUNDLAB expands upon Rockford's new arsenal of tools aimed at assisting the specialist retailer by driving consumers in their door.

RF SOUNDLAB's event schedule includes several national events including Sea Otter Classic in Monterey, California, World Superbike at Miller Motorsports Park and Woodward Dream Cruise in Detroit. The schedule is also packed with demonstrations at Rockford Fosgate dealer events throughout the year.

Rockford Corporation is a designer, marketer and distributor of high-performance audio systems for the mobile audio aftermarket, personal audio, professional audio and for the OEM automotive, marine and trailer applications. Rockford's mobile audio products are marketed primarily under the Rockford Fosgate(R), Rockford Acoustic Design(TM) and Lightning Audio(R) brand names.

Rockford's primary brand websites include: https://rockfordfosgate.com, http://www.rockfordacousticdesign.com, and http://www.lightningaudio.com and http://www.installedge.com.
About Rockford Corporation
Setting the standard for excellence in the audio industry, the Rockford Corporation markets and distributes high-performance audio systems for the car, utv audio, and marine audio aftermarket and OEM market. Headquartered in Tempe, Ariz., Rockford Corporation is a publicly traded company and manufactures or distributes its products under the brand: Rockford Fosgate(R). For more information, please visit: rockfordfosgate.com.