ROCKFORD FOSGATE FEATURES NEW PRO SERIES SPEAKER SYSTEMS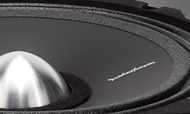 Rockford Fosgate, the industry leader in high-performance car audio systems, announced that it will feature its new Pro Series speaker systems at The Palms Casino Resort in Las Vegas, Nev. from Jan. 10-12, 2012, in The Palms Ballroom. Now shipping, the highly efficient 100-Watt (RMS), 6-inch PPS4-6 (MAP $89.99) and 125-Watt (RMS), 8-inch PPS4-8 (MAP: $99.99) midwoofers have been designed to provide high dB levels with little to no distortion.
"Over recent years, the market has been demanding louder systems, but not necessarily just low-end from subwoofers," said Jake Braaten, Rockford director of product development. "The professional audio market has utilized and perfected technologies over the decades, such as for use in arenas and stadiums, which allows for crystal clear audio to be projected over long distances. Utilizing such specialized technologies but for use in a more compact system, Rockford has heeded the call with the new Punch Pro Series."
100-Watt PPS4-6 and 125-Watt (RMS) PPS4-8 system specs include:
Corrugated treated cloth surround
Fiber reinforced high strength paper cone with treated W style surround
Billet stock machined aluminum phase plug
High temp aluminum voice coil
Fatigue and tear resistant poly cotton spider
periodic-stitched fatigue resistant lead wire
Stamp-cast steel frame
All metal input spring terminal connection
Grilles and mounting hardware included
Impedance: Single 4-Ohm and 8-Ohm versions
Sensitivity 92.4 dB (PPS4-6)
Frequency Response 85Hz - 5Khz (PPS4-6)
Sensitivity 94.4 dB (PPS4-8)
Frequency Response 80Hz - 5Khz (PPS4-8)
Specifications and prices subject to change without notice.
For more information on Rockford Corporation, please visit www.rockfordcorp.com.
About Rockford Corporation
Setting the standard for excellence in the audio industry, the Rockford Corporation markets and distributes high-performance audio systems for the car, utv audio, and marine audio aftermarket and OEM market. Headquartered in Tempe, Ariz., Rockford Corporation is a publicly traded company and manufactures or distributes its products under the brand: Rockford Fosgate(R). For more information, please visit: rockfordfosgate.com.