Rockford Fosgate Features New PMX-8BB Hideaway Digital Media Receiver and PMX-8DH Wired Display Head At 2016 Annual Product Showcase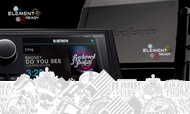 Rockford Fosgate (www.rockfordfosgate.com), the industry leader in high-performance audio systems, will add to its line of Element-Ready moto-marine source units during its annual Product Showcase, held at The Hard Rock Hotel & Casino (Artist Ballroom) in Las Vegas, Nev. from Jan. 6-8, 2016. For those fanatics who take hitting sand and surf seriously and need an audio system command center with extreme flexibility, Rockford Fosgate's PMX-8BB hideaway digital media receiver and companion PMX-8DH full function wired display head are the answer.

"The PMX-8BB is a ground up designed, feature-rich hide-away digital media receiver designed to provide flexibility regardless of system size," said Jake Braaten, Rockford's V.P. of Product Development & Engineering. "This 'Black Box' has not only the desired functionality such as custom-designed GUI interface and menu system built with ease of use in mind, but it also features SiriusXM tuner capability, Pandora radio control via USB or Bluetooth, Android compatible, full iPhone support with folder browsing capability, EEprom memory, and true 4-zone / 4-source control. The PMX-8BB, utilized with the PMX-8DH full function wired display head, is the only media receiver you'll ever need."

Both the PMX-8BB (MSRP: $399.99) and the PMX-8DH (MSRP: $299.99) are scheduled to ship in Summer 2016.

"The PMX-8BB also includes 7-band DSP equalization and integrated crossover controls for each zone, allowing the user to tailor them to their liking," continued Braaten. "If a larger system needs more control, the PMX-8BB is expandable with up to three additional remotes, providing full control capability."

Additional features of the PMX-8BB include:
• AM/FM/WB/RDS digital tuner (presets)
• 4x50 Watt internal amplifier (2 ohm stable)
• Steering wheel control ready (3.55 mm jack)
• IPX-5 waterproof design
• Rear aux in (l/r)
• Reverse camera input trigger
• Optional CAN transceiver ready (PMX-CAN)
• Upgradeable firmware and Bluetooth software via USB


"Designed for use with the PMX-8BB, the PMX-8DH is a wired display head controller giving you access to all of the receiver's capabilities," Braaten added. "It features a 5-inch ultra-bright color TFT display designed and chosen for its viewing ability even in fill sunlight. The screen is optically wet-bonded to the bezel to prevent any dust or moisture penetration ensuring it stays clean and clear. Access to the custom GUI interface is provided through the water resistant rotary encoder knob, and white LED backlit buttons allow you to easily adjust the illumination levels of the panel and provide instant sub level control at your fingertips."

The PMX-8DH also features a composite video input for video or camera systems and easy interconnection to PMX-8BB with a multi-pin DIN connector. The panel is IPX6-rated for water spray intrusion protection and features a conformal PCB circuit board protecting vital electronics. The unit has also been subjected to 500 hours of testing under both the ASTM B117 and D4329 testing standards to make sure it will hold up under years of daily use exposed to the elements.

Product Detail Pages:


PMX-8DH
Punch Marine Full Function Wired 5" TFT Display Head


PMX-8BB
Punch Marine Hide-Away AM/FM/WP Digital Media Receiver
About Rockford Corporation
Setting the standard for excellence in the audio industry, the Rockford Corporation markets and distributes high-performance audio systems for the car, utv audio, and marine audio aftermarket and OEM market. Headquartered in Tempe, Ariz., Rockford Corporation is a publicly traded company and manufactures or distributes its products under the brand: Rockford Fosgate(R). For more information, please visit: www.rockfordfosgate.com.