Rockford Fosgate Features New Add-On Tweeter System For 2016 Punch Marine Speakers During 2016 Annual Product Showcase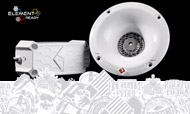 Rockford Fosgate (www.rockfordfosgate.com), the industry leader in high-performance audio systems, is proud to announce that it will feature a new add-on tweeter system for 2016 Punch element-ready speakers during its annual Product Showcase, held at The Hard Rock Hotel & Casino (Artist Ballroom) in Las Vegas, Nev. from Jan. 6-8, 2016. Scheduled to ship in Q1 2016 with an MSRP of $199.99, the 1-inch, 100/200 Watt (RMS/Peak), 4-ohm PM2T-S is an excellent option for those who want even more high end on sand or surf.

"If you're looking to add a little more high frequency output to your audio system, then look no further than the PM2T-S element-ready add-on tweeter kit," said Jake Braaten, Rockford's V.P. of Product Development & Engineering. "The PM2T-S features a 1-inch high quality aluminum dome tweeter designed to be incredibly accurate while still producing high output. Knowing this tweeter will likely be exposed to the elements on both sand and surf, we have designed it using marine-rated materials as well as testing it for survival in outdoor applications."

Additionally, the PM2T-S is easily connected to Rockford's existing line of PM series marine speakers using the additional terminals already provided in their design. The PM2T-S also features multiple mounting options such as surface mounting using our discreet dual clamp tweeter mounting system or an optional horn loading mounting flange to provide more directional and higher output volume. The PM2T-S kit also comes with an inline audiophile-grade 18dB crossover pack to ensure proper filtering of unwanted frequencies, protecting the tweeter while directing the proper sound to it. Additional features include marine grade PEI rubber surround, high temperature Kapton® voice coil former, Neodymium motor structure, all marine grade construction, and mounting hardware.

Product Detail Pages:

PM2T-S
1" Punch Marine Add-On Tweeter System
About Rockford Fosgate
Setting the standard for excellence in the audio industry, Rockford Corporation markets high-performance audio systems under the brand Rockford Fosgate® for the mobile, motorsport, and marine audio aftermarket and OEM market. Headquartered in Tempe, Ariz., Rockford Corporation is a wholly owned subsidiary of Patrick Industries, Inc. (NASDAQ: PATK).