ROCKFORD FOSGATE EXPANDS PRIME, PUNCH, & POWER FULL RANGE SPEAKER SYSTEMS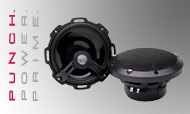 Rockford Fosgate, the industry leader in high-performance car audio systems, announced that it has expanded its Prime, Punch, and Power Series full range coax speaker lines, and that it will feature these nine new models at The Palms Casino Resort in Las Vegas, Nev. from Jan. 10-12, 2012, in The Palms Ballroom. Now shipping, the expanded lines include true 6-inch, 6.5-inch, and 6.75-inch sizes.

"Rockford Fosgate now has our most comprehensive full range speaker line ever," said Jake Braaten, Rockford director of product development. "Over the years, many installs have become more burdensome because some car manufacturers, such as many Chevy truck and Honda models, have very shallow mounting areas for the factory speakers. Now, with nine different sized speakers in the six-inch speaker category, we can virtually guarantee that we have a full range speaker for every budget and every application."

Each model, no matter the variation in size, has been designed to incorporate Rockford Fosgate's sonic signature. In addition, to accommodate the customer's budget as well as for the ease of pairing the appropriate speaker to the make and model of each vehicle application, each similarly sized speaker within a particular series has one price for the entire size range. "Each PUNCH 6-inch, 6.5-inch, and 6.75-inch speakers are priced the same, and that also goes for the Prime and Power versions," said Theresa Hephner, Rockford's senior director of product development and marketing. "We want to make it easy for the customer. The retailer can say, 'Here's the Rockford sonic signature, here's the price,' and then let the installer decide which size is the best fit."


| | | | |
| --- | --- | --- | --- |
| Series | Model | Size | MAP |
| Prime | R16 | 6-inch | $59.99 |
| Prime | R165 | 6.5-inch | $59.99 |
| Prime | R1675 | 6.75-inch | $59.99 |
| Punch | P16 | 6-inch | $99.99 |
| Punch | P165 | 6.5-inch | $99.99 |
| Punch | P1675 | 6.75-inch | $99.99 |
| Power | T16 | 6-inch | $149.99 |
| Power | T165 | 6.5-inch | $149.99 |
| Power | T1675 | 6.75-inch | $149.99 |


Prices subject to change without notice.

For more information on Rockford Corporation, please visit www.rockfordcorp.com.


About Rockford Corporation
Setting the standard for excellence in the audio industry, the Rockford Corporation markets and distributes high-performance audio systems for the car, utv audio, and marine audio aftermarket and OEM market. Headquartered in Tempe, Ariz., Rockford Corporation is a publicly traded company and manufactures or distributes its products under the brand: Rockford Fosgate(R). For more information, please visit: rockfordfosgate.com.