Rockford Fosgate Demonstrates Next Generation ecoPUNCH™ Factory Upgrade Concept In Nissan Juke®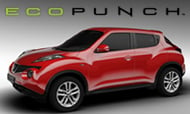 Rockford Fosgate, the industry leader in high-performance car audio systems, announced that it will feature its next generation ecoPUNCH™ factory upgrade plug and play concept audio system in the Nissan Juke® at The Palms Casino Resort in Las Vegas, Nev. from Jan. 10-12, 2012, in The Palms Ballroom.

"The Nissan Juke® is an innovative crossover, and it's a perfect fit with Rockford Fosgate's youthful and energetic customer demographic lifestyle," explained Dan Vandenbergh, Rockford managing director, OEM. "The 2011 Juke, which will be showcased at The Palms, will include the latest generation Rockford Fosgate ecoPUNCH™ audio system. This will include, for the first time ever, an OEM Punch Bass Controller for the system's factory Rockford Fosgate powered subwoofer."

The next generation ecoPUNCH™ factory upgrade concept audio system will be a plug and play system that will include a harness, a Rockford Fosgate amplifier and choice of subwoofer. Designed to work around the vehicle's existing factory speakers, the upgraded Rockford Fosgate amp stems from the brand's acclaimed Punch line. The amp will be a 350-500 Watt, 5-channel power plant with on-board DSP to match the factory speakers to the vehicle's acoustics and Rockford's Punch sonic signature by adjusting the system's frequency response, dynamics, and time alignment. The subwoofer upgrade will be available in dual 6-inch, as well as single 8- and 10-inch models.

For more information on Rockford Corporation, please visit www.rockfordcorp.com.


About Rockford Fosgate
Setting the standard for excellence in the audio industry, Rockford Corporation markets high-performance audio systems under the brand Rockford Fosgate® for the mobile, motorsport, and marine audio aftermarket and OEM market. Headquartered in Tempe, Ariz., Rockford Corporation is a wholly owned subsidiary of Patrick Industries, Inc. (NASDAQ: PATK).