Rockford Fosgate Debuts Small Chassis Power Series Moto-Marine Amplifiers At 2015 Product Showcase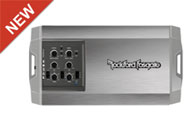 Rockford Fosgate (www.rockfordfosgate.com), the industry leader in high-performance audio systems, is proud to announce that they will launch three new small chassis Power Series "Moto-Marine" amplifiers during its annual Product Showcase, held at The Hard Rock Hotel & Casino (Artist Ballroom) in Las Vegas, Nev. from Jan. 6-8, 2015.

"Element-ready chassis and protected circuitry will allow anyone to bring Rockford's famed high-performance Power Series amplifiers onto the water or extreme motorsport applications," said Jake Braaten, Rockford's V.P. of Product Development & Engineering. "Rockford's three-model Power Moto-Marine Series amplifiers can handle the toughest environments while delivering unprecedented power and control in the hands of the most discriminating audio fanatic."

The new Power Series marine amplifier line specs and technical highlights include:
• Element-ready two-part epoxy coating on circuit boards
• Rockford proprietary Class AD technology (TM400X2AD & TM400X4AD only)
• Rockford proprietary Boosted Rail Technology (TM500X1BR only)
• C.L.E.A.N. input/output clip detection and indicator LEDs
• AP Remote Out feature when using high level inputs
• Remote level Punch control (TM400X2AD & TM500X1BR only)
• Top mount controls
• Dual extruded heatsinks
• Dual fan cooled
• Real time thermal sensing
• Discrete surface mount technology
• CEA-2006 & CE compliant
• Scheduled to ship: Q2

In addition, Rockford Fosgate is also debuting new "Element-Ready" packaging for its "Moto-Marine" lines. Graphics and text will highlight each product's element-ready specifications within these lines, making them easily recognizable so the dealer and consumer can perfectly match the product to their installation and environmental requirements.

Specifications for the 2015 Power Series "Moto-Marine" amplifier line include:

Model

Channels

4 Ohm

2 Ohm

1 Ohm

Frequency Response

MAP

TM400X2AD

Stereo

Mono

200 x 2

400 x 1

200 x 2

NA

NA

20Hz - 20kHz +/- 1 dB

$549.99

TM400X4AD

4-channel

Mono

100 x 4

200 x 2

100 x 4

NA

NA

20Hz - 20kHz +/- 1 dB

$549.99

TM500X1BR

Mono

175x 1

300 x 1

500 x 1

20Hz - 220Hz +/- 1 dB

$599.99

Specifications and pricing subject to change without notice.
About Rockford Fosgate
Setting the standard for excellence in the audio industry, Rockford Corporation markets high-performance audio systems under the brand Rockford Fosgate® for the mobile, motorsport, and marine audio aftermarket and OEM market. Headquartered in Tempe, Ariz., Rockford Corporation is a wholly owned subsidiary of Patrick Industries, Inc. (NASDAQ: PATK).