Rockford Fosgate Brings A New Level Of Premium Sound To Factory Stereos With Upgraded 3Sixty.3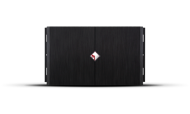 Rockford Fosgate, the industry leader in high-performance car audio systems, is bringing a new level of premium sound to factory-installed sound systems with its new 3Sixty.3 Interactive Signal Processor.  The new processor will feature a number of upgrades not found on the current generation model 3Sixty.2, and will debut in the Palms Ballroom at the Palms Casino Resort in Las Vegas, from Jan. 6-8, 2011.   
"Even though people often invest in an upgraded factory-installed car sound package, chances are they still won't get the best audio quality," noted Bill Jackson, president of Rockford Corporation.  "That's why we introduced the 3Sixty Interactive Signal Processor.  It instantly became a popular choice for audio buffs who want more from their factory system without having to replace the in-dash stereo.  We're excited about our new generation 3Sixty.3, which features more options and is compatible with current wireless technology and functionality." 
The new generation 3Sixty3 Interactive Signal Processor by Rockford Fosgate offers many exciting upgrades including:
-       8 channels
-       iPod Cable and Bluetooth interface
-       4x DSP horsepower
-       31 band equalizer
-       8 biquads per channel
-       Multichannel mixer for custom channel summing
-       Channel router for user assignable inputs
-       Output noise gate with hard FET mutes
-       Phase control
-       Delay time
-       Analog Volume control with increased range
-       EZ Setup with a PC
-       Digital remote
-       RFLink interface
-       Digital Input (optical SPDIF)
-       Remote output (selectable delay)
-       Balanced/unbalanced select
-       Improved and more intuitive GUI
-       iPhone and iPad mobile application
-       Field upgradable firmware via USB
"Increasingly, OEMs are integrating mobile phones, climate control and other key functions and technologies into a single in-dash unit," said Erik Gundersen, director of advanced products for Rockford Fosgate.  "That level of integration makes it difficult to replace a factory-installed audio system.  The new 3Sixty.3 processor not only gives customers the freedom to integrate their choice of speakers, subwoofers and amps without changing the in-dash radio, it also includes the latest Bluetooth and mp3 player functionality that accommodates features like volume control in the steering wheel."
For more information about the 3Sixty.3 Interactive Signal Processor, visit www.rockfordfosgate.com.
Media Contact: Scott Black | 214.520.3430 ext. 303 | [email protected] 
---
About Rockford Fosgate
Setting the standard for excellence in the audio industry, the Rockford Corporation markets and distributes high-performance audio systems for the mobile audio aftermarket and OEM market.  Headquartered in Tempe, Ariz., Rockford Corporation is a publicly traded company and manufactures its products under four brands: Rockford Fosgate(R), Rockford Acoustic Design(TM), Lightning Audio(R) and InstallEdge.com  For more information, please visit: www.rockfordfosgate.com, www.rockfordacousticdesign.com, www.lightningaudio.com and www.installedge.com. 
About Rockford Fosgate
Setting the standard for excellence in the audio industry, Rockford Corporation markets high-performance audio systems under the brand Rockford Fosgate® for the mobile, motorsport, and marine audio aftermarket and OEM market. Headquartered in Tempe, Ariz., Rockford Corporation is a wholly owned subsidiary of Patrick Industries, Inc. (NASDAQ: PATK).