Rockford Fosgate Blast 300bhp per Litre in the U.K.!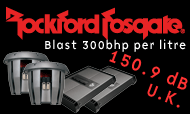 The nutters at Bassmechanix of Newcastle upon Tyne in the United Kingdom have achieved a staggering result with Rockford Fosgate kit.
To welcome renewed U.K. distribution with ProPlus Sound, Manjit and the lads at TFG have installed his Mk3 VW Polo with just two ten-inch Rockford Fosgate POWER T210D2 subwoofers, driven by two Rockford Fosgate POWER T20001bd amplifiers and have measured their entirely boot-contained street bass system (not one-note SPL) at a massive, bollock-blasting 150.9 decibels. That'll rip the air from your chest, make your eyeballs wobble in your head and settle the digestion a treat. Getting this performance means insane product coupled with huge skill - it's like a two litre engine generating 600bhp.
About the System:
Auto: Mk3 VW Polo
Subwoofers: (2) T210D2
Amplifiers: (2) T20001bd
Continuous SPL: 150.9dB
About the Dealer/Installer:
Go see www.bassmechanix.com for more, or call 01707 650 140 to locate your nearest Rockford Fosgate dealer or e-mail [email protected]. If you are local and want the same expertise in your car, call the boys on 0191 261 2445 and tell 'em Tova sent ya..."
About the Distributor:
Read the attached PDF on ProPlus, our new Rockford Fosgate distributor in the United Kingdom. You can contact ProPlus here.
About Rockford Corporation
Setting the standard for excellence in the audio industry, the Rockford Corporation markets and distributes high-performance audio systems for the car, utv audio, and marine audio aftermarket and OEM market. Headquartered in Tempe, Ariz., Rockford Corporation is a publicly traded company and manufactures or distributes its products under the brand: Rockford Fosgate(R). For more information, please visit: rockfordfosgate.com.