Rockford Fosgate Big Pimpin' in Jeep Wrangler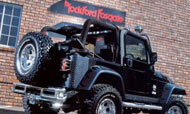 The folks at Auto Sound Engineering were the mad scientists responsible for all the aesthetics carried out in true on-off Maxer style. This Jeep Wrangler's power currently stands at 168kW with 320 titty-twisting Newton meters on tap. System Components JVC EXAD DVD source unit 2 x Rockford Fosgate P250.2 amplifiers Rockford Fosgate P3 10" subwoofer Rockford Fosgate 6-1/2" splits Rockford Fosgate 5-1/4" coaxials Read the attached PDF for entire article.
About Rockford Fosgate
Setting the standard for excellence in the audio industry, Rockford Corporation markets high-performance audio systems under the brand Rockford Fosgate® for the mobile, motorsport, and marine audio aftermarket and OEM market. Headquartered in Tempe, Ariz., Rockford Corporation is a wholly owned subsidiary of Patrick Industries, Inc. (NASDAQ: PATK).