Rockford Fosgate At Euro Night 2007 Hawaii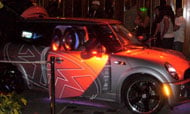 Rockford Fosgate In The House!
The Ocean Club's popular "Piranha Room" monthly event in Honolulu, Hawaii invited Rockford Fosgate to participate in "Euro Night 2007". Greeting guest at the front door was the Rockford Fosgate Mini Cooper. The crew from "Team RF" and their guest was also on hand to enjoy the special VIP status the nightclub provided.
Everyone wanted to see and hear the RF Mini Cooper. The Mini was slammed and hammered all night without fail. The party ended at 3:30am. People are willing to wait sometimes an hour, sometimes longer, to get into the Ocean Club on the last Saturday of every month. Even more remarkable is the fact that there are three lines -- one for the general public, another for people with club VIP cards and a third for those on a special VIP list who usually arrive after the club is packed to capacity."
'The Piranha Room' is not just another club event, it's a production. It's the energy it creates that keeps everyone smiling."
About Rockford Fosgate
Setting the standard for excellence in the audio industry, Rockford Corporation markets high-performance audio systems under the brand Rockford Fosgate® for the mobile, motorsport, and marine audio aftermarket and OEM market. Headquartered in Tempe, Ariz., Rockford Corporation is a wholly owned subsidiary of Patrick Industries, Inc. (NASDAQ: PATK).