Rockford Fosgate Announces Winner of "Ride Like A Pro"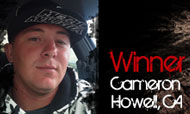 Rockford Fosgate, the industry leader in high-performance car audio systems, has selected Cameron Howell from Susanville, Calif. as the Rockford Fosgate "RIDE LIKE A PRO" winner. The online promotion was announced Sept. 1, 2011 and gives Cameron Howell a one-on-one day with Motocross Racing Pro Ryan Sipes, top of the line Scott MX racing gear, as well as $1,000 of Rockford Fosgate merchandise. The public is invited to join Sipes and Howell on Oct. 20, 2011, from 10 a.m. – 2p.m., at the ET Motopark/Arizona Speedway track in Apache Junction, Ariz. Admission to the event is free.

"We had a huge response to our 'Ride Like a Pro' promotion," said Theresa Hephner, senior director of product development and marketing for Rockford Corporation. "Over the past year we've been an AMA Motocross sponsor and have seen tremendous value in being part of that culture. Our customers love the thrill of high adrenaline, high octane power sports. So, giving everyone a chance to actually be part of the action was an opportunity that we knew people would really get in to."

Ryan Sipes is a professional motocross racer who currently rides for DNA Shred Stix/Star Racing Yamaha. Beating out Justin Baricia in the 10-lap event, Sipes was named the 2011 East–West Coast Shootout champion in Las Vegas and placed second in the 2011 East Coast Lites. Earlier this year, Sipes had two wins during the AMA Supercross, taking first place in the AMA Supercross Lites Indianapolis. His goals for 2012 are to win races and contend for the East Coast 250F championship.

"Even though Cameron is the official winner of the 'Ride Like a Pro' promotion, anyone can be a part of the day's excitement we've planned," added Hephner. "Not only do motocross fans get to watch Sipes and Cameron tear up the track for free, they'll also get full access to great booths, a full fleet of Rockford Fosgate demo vehicles, giveaways, vendors, appearance by local radio station KZZP 104.7, food and music. We've even scheduled a meet and greet where fans can take pictures with Sipes and get his autograph. This will definitely be an adrenaline filled day that no one should miss."

Racer X magazine will also be at the event to document the race day with photography and videography. For more information visit http://rockfordfosgate.com/promotions
About Rockford Corporation
Setting the standard for excellence in the audio industry, the Rockford Corporation markets and distributes high-performance audio systems for the car, utv audio, and marine audio aftermarket and OEM market. Headquartered in Tempe, Ariz., Rockford Corporation is a publicly traded company and manufactures or distributes its products under the brand: Rockford Fosgate(R). For more information, please visit: rockfordfosgate.com.