Rockford Fosgate Announces What's Your Volume 2.0 Video Contest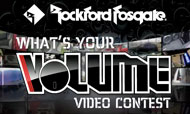 Rockford Fosgate announced today the launch of What's Your Volume 2.0 video contest and sales promotion.

"We've brought What's Your Volume back this year, it's bigger and louder than ever before," says Tammy Lowe, Marketing Services Manager. "What's Your Volume contestants will create a video telling the world why they are the 'Ultimate Car Audio Fanatic.' The Grand Prize is a Suzuki GSX-R600 sport bike, $5000 in Rockford Fosgate audio gear, a ContourHD video prize pack and of course, a spot in Rockford Fosgate Volume Magazine."

What's Your Volume 2.0 Video Contest starts October 1st, 2010 with video entries being accepted through November 1st. Voting for participants starts November 2nd and continues through the end of the year, ending December 31st. In addition to the Grand Prize, Rockford Fosgate is awarding a First Place $2500 prize package, a Second Place $1000 prize package and a Third Place $500 prize package. Those who receive the votes for Fourth through Twenty-Fifth will take home a pair of the award winning PUNCH PLUG in-ear monitors.

Those who'd like to participate in the contest can visit www.rockfordfosgate.com/promotions for instructions on how to enter and details on the prize.

"Engaging our loyal fans and reaching out to those who are passionate about high-performance audio with this contest is exciting. Supporting the marketplace and our dealers with the What's Your Volume Sales Coupon adds to this comprehensive promotion," explains Dan Mcleod, Director of Specialty Accounts.

The What's Your Volume Sales Coupon gives consumers the ability to save some huge dollars on building their dream system and authorized Rockford Fosgate dealers a tool to drive consumers into their retail locations. With savings up to $150 on purchases Rockford Fosgate products, even those who don't submit videos can win big. Sales coupons are valid between October 1st 2010 and January 4th 2011. Coupons must be redeemed at Authorized Rockford Fosgate dealers.
---
Rockford Corporation is a designer, marketer and distributor of high-performance audio systems for the mobile audio aftermarket, personal audio, professional audio and for the OEM automotive, marine and trailer applications. Rockford's mobile audio products are marketed primarily under the Rockford Fosgate(R), Rockford Acoustic Design(TM) and Lightning Audio(R) brand names. Rockford's primary brand websites include: https://rockfordfosgate.com, http://www.rockfordacousticdesign.com, and http://www.lightningaudio.com and http://www.installedge.com.

Rockford Fosgate is a division of Rockford Corporation in Tempe, Ariz., a publicly traded company. Company websites can be viewed at rockfordfosgate.com and rockfordcorp.com
About Rockford Corporation
Setting the standard for excellence in the audio industry, the Rockford Corporation markets and distributes high-performance audio systems for the car, utv audio, and marine audio aftermarket and OEM market. Headquartered in Tempe, Ariz., Rockford Corporation is a publicly traded company and manufactures or distributes its products under the brand: Rockford Fosgate(R). For more information, please visit: rockfordfosgate.com.