ROCKFORD FOSGATE ANNOUNCES SPONSORSHIP OF AMATEUR MOTOCROSS CHAMPION ANDREW PIERCE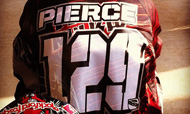 Rockford Fosgate, the industry leader in high-performance car audio systems, is proud to announce that it has sponsored 16-year-old Huffman, Texas-native Andrew Pierce, the amateur motocross champion and member of the Metal Mulisha team. Pierce is currently racing in the top 2012 Motocross amateur events, recently winning three new championships while at the Oak Hill National, including the Honda 150 Cup, Supermini 2, and 85 MOD 14-16 classes.
"Andrew has achieved a lot for being so young," said Theresa Hephner, Rockford senior director, products and marketing. "His hard work and dedication to the sport caught our attention and we could not be more excited to be a part of his growth towards the professional motocross world. Motocross, like Rockford Fosgate, hits active teenagers and their high octane lifestyle, so our new partnership with Andrew is a perfect fit."
In 2008, Pierce won the 2008 65cc Modified class and took third overall in 65cc Stock in 2008 Loretta Lynn's Amateur National Motocross Championships. He took third overall in 85cc Stock at the AMA Amateur National Motocross Championships last August, as well as taking four championships at the Mini Olympics this past November in the 85cc and supermini classes. Pierce will be participating in a number of 2012 events, including those in Oak Hill, Texas (March 5-9), Millcreek, Ala. (March 12-17), World Mini in Mesquite, Nev. (April 9-15), Mammoth (June 22 - July 1), Ponca City (July 22-28), Loretta Lynn's (July 29 - Aug. 4) and the Mini O's (Nov. 20-26).
"Partnering with Rockford Fosgate is another dream come true for me," said Pierce. "They make some of the best gear in the mobile audio world, and the fact that they want to be a part of my growth and success is awesome. I'm proud to be part of the Rockford Fosgate family!" Motocross fans will see Rockford Fosgate's name prominently displayed on Pierce's helmet visor, bike, and jersey during all 2012-13 seasons. Pierce will also proudly display Rockford Fosgate on his vehicles and rigs.
About Rockford Fosgate
Setting the standard for excellence in the audio industry, Rockford Corporation markets high-performance audio systems under the brand Rockford Fosgate® for the mobile, motorsport, and marine audio aftermarket and OEM market. Headquartered in Tempe, Ariz., Rockford Corporation is a wholly owned subsidiary of Patrick Industries, Inc. (NASDAQ: PATK).