Rockford Fosgate Announces RFTECH:Woofer BoxAdvisor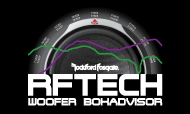 Tempe, Ariz. - Rockford Fosgate is excited to announce the car audio industry's first online woofer enclosure recommendation and modeling application called the RFTECH:Woofer BoxAdvisor.  Two modes are available; Consumer Mode for basic information and Dealer Mode for advanced charting.


"Authorized Rockford Fosgate Dealers can plot either theoretical or real in-car acoustical transfer functions," says Drew Kallen, Rockford Fosgate's Director of Loudspeaker Design.  "Typical speaker modeling applications generate "free-field" response plots, so we know it is important to show dealers the difference in bass response when woofers are placed inside a vehicle".

Erik Gundersen, Rockford Fosgate's Director of Advanced Products adds "The BoxAdvisor also uses our core software engine used internally for Rockford Fosgate's New Product Development testing and validation process.  The similarity in algorithms means a dealer sees on-screen what we see in the laboratory!"

"Customers spend a lot of time downloading PDFs to see what box designs are available, and the BoxAdvisor replicates this data in an easy-to-use web based interface," explains Eric Russell, WebWizard and Technical Writer for Rockford Fosgate.  "The application is very functional due to AnyChart's dynamic flash charts and gauges with real-time updating using a Web 2.0 (AJAX) interface".

In Consumer Mode, the BoxAdvisor displays Enclosure Preference and Amplifier Power Range gauges along with Recommended Sealed, Vented and Infinite Baffle configurations.  Up to 4 woofers are supported with export options to the BoxWizard for customizing box shape and WiringWizard illustrating woofer wiring.

In Dealer Mode, the BoxAdvisor allows you to configure the acoustic properties of the automobile environment.  A vehicle database contains real transfer functions that plot the cabin gain of automobiles.  For unlisted vehicles, manual configuration is possible by specifying Vehicle Size and Air Leaks qualities for a theoretical curve.

RFTECH:Woofer BoxAdvisor:
https://rockfordfosgate.com/support/box-advisor/
 
MODE
FEATURES
DEALER
CONSUMER
Input Parameters
Woofer Status
Current models
X
X
Discontinued models
X
X
Unit of Measure
Standard (cubic feet & inches)
X
X
Metric (liters & centimeters)
X
X
Woofer Models
Select by series
X
X
Select by model
X
X
Vehicle Acoustics
Select vehicle from database
X
—
Manually configure vehicle
X
—
Cabin gain preview graph
X
—
Output Charts
EBP (Efficiency Bandwidth Product)
X
X
Amp Power range
X
X
Recommended sealed box
X
X
Recommended vented box
X
X
Recommended Infinite Baffle
X
X
Supports 1 to 4 subwoofers
X
X
Free-Field SPL graph w/ max SPL & F3 indicators
X
—
Cone Excursion graph  w/ over-excursion warning
X
—
SPL in-car / SPL free-field graph
 
 
Impedance magnitude
X
—
Phase magnitude
X
—
Port air speed (vented)
X
—
Updateable Chart Inputs
Vb - Box volume
X
—
Fb - Tuning frequency (vented)
X
—
Port Type (vented)
X
—
Power input (watts rms)
X
—
Poly fill quantity
X
—
Air leaks quality
X
—
Ambient air temperature
X
—
Ambient air pressure
X
—
Export Features
Modify box shape (RFTECH:Woofer BoxWizard)
X
X
Show woofer wiring (RFTECH:Woofer WiringWizard)
X
X

AnyChart Website: www.anychart.com


Rockford Fosgate is a division of Rockford Corporation in Tempe, Ariz., a publicly traded company under the NASDAQ stock symbol ROFO. Company websites can be viewed at rockfordfosgate.com and rockfordcorp.com.
About Rockford Fosgate
Setting the standard for excellence in the audio industry, Rockford Corporation markets high-performance audio systems under the brand Rockford Fosgate® for the mobile, motorsport, and marine audio aftermarket and OEM market. Headquartered in Tempe, Ariz., Rockford Corporation is a wholly owned subsidiary of Patrick Industries, Inc. (NASDAQ: PATK).