Rockford Fosgate Announces Punch Powered Loaded Subwoofer Enclosures Now Shipping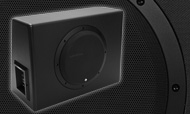 Rockford Fosgate, the industry leader in high-performance car audio systems, announced that its Punch Powered Loaded Subwoofer Enclosures are now shipping. The all new P300-10 10-inch and P300-12 12-inch, 300-Watt (RMS) models are the perfect all-in-one solutions that integrate the famed Rockford Fosgate sonic signature and power.
"If you need to quickly add bass to a system or want to alleviate the hassle of separate amplifiers and subwoofers, then the Punch P300-10 or P300-12 is the right one for the job," said Jake Braaten, Rockford Director of Product development. "The P300 Series features either a Punch 10-inch or 12-inch subwoofer in a custom sealed enclosure and is powered by a mighty 300-Watt amplifier. The system is an all-in-one, all-inclusive solution when adding bass to a factory system or just to save space. So, you only need to run power, ground, and a signal from the source to get this baby moving."
Additional Punch P300 Punch Powered Loaded Subwoofer Sealed Enclosure specs include:
•"Closed-loop" design ensures optimum performance between woofer, amp, and enclosure
•Built-in 0 degree/180 degree phase switch
•Frequency response: 35Hz - 150Hz
•Separate low level and speaker level inputs
•Built-in adjustable bass boost EQ
•Adjustable 12db/Octave low pass crossover
•Detachable power/ground connector
•Intelligent auto turn on/off function
•Thermal and over voltage protection
•High-efficiency, low current design
•Remote bass level control included
•Proprietary high output woofer
•Constructed with 5/8-inch MDF
•Large AWG input terminals
•Covered with industrial heat activated vinyl
•Durable exterior that resists scrapes and bumps while in the trunk or cargo area
•1 Year Standard Warranty
•Complies to CEA-2031 standards
•MSRP: P300-10 ($279.99); P300-12 ($299.99)
Specifications and prices subject to change without notice.
About Rockford Fosgate
Setting the standard for excellence in the audio industry, Rockford Corporation markets high-performance audio systems under the brand Rockford Fosgate® for the mobile, motorsport, and marine audio aftermarket and OEM market. Headquartered in Tempe, Ariz., Rockford Corporation is a wholly owned subsidiary of Patrick Industries, Inc. (NASDAQ: PATK).