Rockford Fosgate Announces Partnership with Polaris®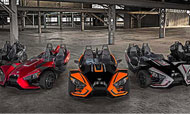 Rockford Fosgate (
www.rockfordfosgate.com
), the industry leader in high-performance audio systems, is proud to announce that it has partnered with Polaris® to be the exclusive OEM speaker provider for its 2017 Slingshot® SL and SLR moto-roadster lineup. Available in dealerships this August, the 2017 Slingshot is equipped with a Rockford Fosgate four-speaker sound system.
"With the ever growing popularity of motorsports recreation, whether it's on road motorcycles or off-road side-x-side and UTVs, Rockford Fosgate has focused on delivering products that are designed to perform while out in the elements," stated Bill Jackson, Rockford president and CEO. "That's why our relationship with Polaris makes sense. Polaris is founded on fueling the passion of riders, workers, and outdoor enthusiasts and the team here at Rockford Fosgate prides itself on delivering the best audio experience in every type of vehicle. Our systems are high performance and built to last, no matter where you ride. We are proud to work with Polaris and to provide the music experience in the new 2017 Slingshot."
The Rockford Fosgate speaker system includes four 6.5-inch, 2-way, Element Ready® drivers, each featuring a neodymium motor structure purpose built for the high output requirements of this application.
"At Rockford, we're all about enhancing the riding experience for everyone who wants to get out and have fun with their vehicles," explained Jake Braaten, Rockford V.P. of product development and engineering. "But this project posed an interesting challenge with the unique design of the Slingshot and its open air cockpit. We worked closely with the teams at Polaris to seamlessly integrate our audio without interfering with the overall vehicle's design intent and performance. At the end of the day, we believe drivers will be exhilarated by the premium Rockford Fosgate audio system in the 2017 Slingshot SL & SLR."
The Rockford Fosgate design team optimized the 6.5-inch speakers and each enclosure to deliver a premium sound experience without wasting cabin space or adding unnecessary weight to the vehicle. The speaker's high efficiency and high output were designed to overcome the road and wind noise from the Slingshot's unique open cockpit.
According to Polaris, its 2017 Slingshot SL & SLR models include an expanded line-up of accessories focused on rider comfort and customization, and that's where Rockford Fosgate comes in.
"Slingshot's new 2017 line-up takes the vehicle to the next level," said Steve Menneto, President of Polaris Motorcycles. "With the new SLR, premium upgrades on the SL and 31 new accessories, including Rockford Fosgate speakers, we are giving our customers more ways to personalize their experience and make Slingshot their own. Slingshot remains committed to redefining the on-road driving experience and I encourage everyone to get out and test ride the 2017 line-up today."
For more information on Rockford Fosgate, please visit
www.rockfordfosgate.com
For more information about Slingshot visit
www.PolarisSlingshot.com
.
About Rockford Corporation
Setting the standard for excellence in the audio industry, the Rockford Corporation markets and distributes high-performance audio systems for the car, utv audio, and marine audio aftermarket and OEM market. Headquartered in Tempe, Ariz., Rockford Corporation is a publicly traded company and manufactures or distributes its products under the brand: Rockford Fosgate(R). For more information, please visit: rockfordfosgate.com.