Rockford Fosgate® Announces New Stage 5 Premium Audio Kit Solution for the Polaris® RZR® Now Shipping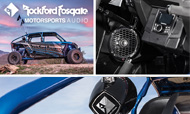 The outdoor environment can be unforgiving on audio gear as both terrain and weather can wreak havoc on these components. With that in mind, Rockford Fosgate (www.rockfordfosgate.com), the industry leader in high-performance audio systems, is proud to announce that the new Stage 5 Audio Kit Solution (RZR-STAGE5) is now shipping. Utilizing Rockford Fosgate's premium Power Series components, the top-of-the-line RZR-STAGE5 has an MSRP of $3,599.99.

"With the overall success of the existing stage 1-4 solutions, Rockford created the ultimate off-road listening experience by offering higher quality speakers, more amplifier power, and a high output subwoofer in the Stage 5," explained Jake Braaten, Rockford Vice President of New Product Development and Engineering. "All of the products, including the RZR-STAGE5, are designed to perform while out in the elements, and we keep the installation simple by offering very efficient plug-and-play kits designed to fit factory locations. Just like the RZR Turbo, this system is high performance and built to be the only audio solution you will ever need, no matter whether in the mud, sand, or on rough mountain trails."

The new RZR-STAGE5 is a complete audio kit with a PMX-2 stereo in the cockpit controlling 1,150 watts of power. Tasked with harnessing all of the power is a 10-inch Power subwoofer hidden under the front dash and (4) Element ReadyTM Punch® speakers. All of the enclosures are purpose built for performance while offering quick and simple installation with little modification to the RZR.

Rockford Fosgate also offers Polaris® RZR® kits ranging from Stage 1 (RZR-STAGE1) to Stage 4 (RZR-STAGE4), as well as the MOTO-REAR1 add-on Rear Speaker Kit (for use with RZR-STAGE2 and RZR-STAGE3 Kits), with prices ranging from $349.99 to $2,199.99.
About Rockford Fosgate
Setting the standard for excellence in the audio industry, Rockford Corporation markets high-performance audio systems under the brand Rockford Fosgate® for the mobile, motorsport, and marine audio aftermarket and OEM market. Headquartered in Tempe, Ariz., Rockford Corporation is a wholly owned subsidiary of Patrick Industries, Inc. (NASDAQ: PATK).