Rockford Fosgate Announces New PUNCH Loudspeakers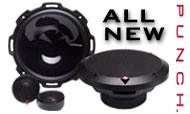 Rockford Fosgate releases entirely new PUNCH loudspeakers designed from the ground up to knock out the competition.

Rockford Fosgate's new loudspeaker engineering team, headed by Director of Loudspeaker Design, Drew Kallen started with a clean sheet of paper and a vision to redesign the PUNCH series of loudspeakers to the pinnacle of technology, sound and value.

Loaded with class leading technology borrowed from the new redesigned Power Series loudspeakers including VAST (Vertical Attach Surround Technique) and Flex Fit technologies, PUNCH delivers on the promise of dynamic full sound, accurate reproduction and superior fit. Simplifying installation but maintaining maximum response, PUNCH component loudspeakers use Rockford's new proprietary ICC (Integrated Concealed Crossover) eliminating the need to mount large external "black boxes".

Minimizing the time between the "box" and "rocks," PUNCH loudspeakers feature an innovative OEM adaptor plate system to insure these new speakers fit perfectly in any factory location.

"We looked at the competition's loudspeakers as a starting point on this 2 year project, and then made sure that these new products blew them away in every measureable way. One look at the cutting edge design, one listen to the competition quality sound, and you'll agree!" says Dan Hunter, Rockford Fosgate's New Product Development Manager.

A wide range of sizes are available to satisfy the most demanding system architecture including components in 5.25" and 6.5" with 1" tweeters. Power coaxial systems range from 4" to 6x9" including both 2-way and 3-way 6x9" models.

Rockford Fosgate PUNCH loudspeakers will be available at over 800 Rockford Fosgate retailers nationwide starting Feb 28th, 2009. PUNCH coaxial loudspeakers start at $89.99 MSRP, PUNCH components systems at $229.99 MSRP.


---
Rockford is a designer, marketer and distributor of high-performance audio systems for the mobile audio aftermarket and for the OEM market. Rockford's mobile audio products are marketed primarily under the Rockford Fosgate(R), Rockford Acoustic Design(TM) and Lightning Audio(R) brand names.

Rockford Fosgate is a division of Rockford Corporation in Tempe, Ariz., a publicly traded company under the NASDAQ stock symbol ROFO. Company websites can be viewed at rockfordfosgate.com and rockfordcorp.com
About Rockford Corporation
Setting the standard for excellence in the audio industry, the Rockford Corporation markets and distributes high-performance audio systems for the car, utv audio, and marine audio aftermarket and OEM market. Headquartered in Tempe, Ariz., Rockford Corporation is a publicly traded company and manufactures or distributes its products under the brand: Rockford Fosgate(R). For more information, please visit: rockfordfosgate.com.