Rockford Fosgate Announces DSR1 Digital Signal Processor at 2016 SEMA Show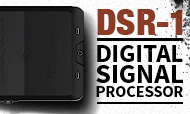 LAS VEGAS, Nev. – Nov. 1, 2016 – Rockford Fosgate (
www.rockfordfosgate.com
), the industry leader in high-performance audio systems, is proud to announce it will launch the new DSR1 Digital Signal Processor at the 2016 SEMA Show, which will be held in Las Vegas, Nev. from Nov. 1 – 4 at the Las Vegas Convention Center, booth N11839. Co-developed with ADS using their iDatalink Maestro interface technology, the DSR1 combines a full-featured 3Sixty digital signal processor with a flashable iDatalink Maestro integration module. Installers have the option to use the DSR-1 as it comes in the box with high or low level input, or do a quick flash download to add vehicle specific firmware to the unit enabling integration without the loss of factory equipped controls and features. Once connected, the installer then has complete control of the sound profile using Rockford Fosgate's proprietary 3Sixty tuning software.
"The DSR1 is the first real solution for replacing the factory amplifier and speakers in Ford and Chrysler vehicles," explained Jake Braaten, Rockford's V.P. of Product Development & Engineering. "The DSR1 uses the full-range, flat audio signal from the factory head unit. After the built-in Maestro interface is flashed with the vehicle-specific firmware, the factory head unit CAN messages are used to control the internal signal routing of the DSR1. Prior to the DSR1, installers had no choice but to add amplifiers after the factory amplifier which required complex signal summing as well as de-equalization and time alignment. The DSR1 still utilizes the power processor found in our patented 3Sixty.3but adds an easy to use app for tuning from Apple and Android devices. With a retail price of only $249.99, there is no reason that every audio system shouldn't have the benefit of a DSR1."
The DSR1 includes 4-channel balanced differential RCA inputs, 4-channel high level inputs with signal sense turn on, 8-channels of 4-volt capable RCA outputs, remote Turn On/Off Function with adjustable Turn On delay, and auxiliary RCA and SPDIF coaxial inputs.
When used in late model Ford and Chrysler vehicles, the DSR1 can be installed with one of three plug-and-play harnesses available at launch. After installation, the factory tone controls and sound field settings are remapped to control like adjustments within the DSR1. For example, the use of the factory bass control is used as the sub-volume adjustment of the DSR1 eliminating the need to install extra controllers or knobs.
The latest member of the 3Sixty family of digital signal processors, the DSR1 will be shipping in 
January
Q1 2017 with an MSRP of $249.99.
Additional DSR1 specifications and features include:
* Frequency response: 20 - 20k +/- 0.5 dB
*
239
245 Bands of Equalization for Aftermarket Tuning
* Adjustable crossovers with selectable slope and crossover type
* Crossover Frequency: 20 - 20k Hz
* Time Alignment of up to 10msec of delay on each channel
* Bluetooth 4.0 Connectivity for convenient setup
* Interactive Tuning Interface Controlled via Android/ iOS APP
* Optional PLC2 Level Controller with Assignable Functions
* Dimensions (L x W x H): 5.12 in. x 4.04 in. x 1,26 in.)
* CE Compliant
Vehicles covered with integration at launch
* 2011 to current Ford and Lincoln vehicles with 8-inch My Ford Touch radio and Sony amplifier
* 2012 to current Chrysler, Dodge, Jeep and Ram vehicles with 8-inch radio and factory amplifier
•
DSR1 Product Details
About Rockford Fosgate
Setting the standard for excellence in the audio industry, Rockford Corporation markets high-performance audio systems under the brand Rockford Fosgate® for the mobile, motorsport, and marine audio aftermarket and OEM market. Headquartered in Tempe, Ariz., Rockford Corporation is a wholly owned subsidiary of Patrick Industries, Inc. (NASDAQ: PATK).