Rockford Fosgate Announces Change In OEM Marine Business Model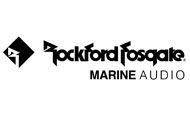 Rockford Fosgate (www.rockfordfosgate.com), the industry leader in high-performance audio systems, has announced that it has moved to a direct-to-builder model in order to allow its builder partners to be closer to Rockford Fosgate's product development experts, technical support group, and global logistics team.

"We believe that both Rockford and our builder partners will benefit from this direct communication and fast response times," said Bill Jackson, Rockford Corp. president & CEO. "The real-time feedback from the field also allows Rockford to stay close to the consumer, something we have prided ourselves on for decades."

The experts at Rockford Fosgate are enthusiasts who live the powersports lifestyle. This super user design mentality lead to Rockford's launch of three complete product lines of "Element-Ready" audio solutions in its Power, Punch, and Prime series categories, which also now includes all new source units that are designed for easy functionality with users in mind.

"With the launch of Rockford Fosgate's complete end-to-end solutions in the marine audio entertainment category, we feel that the timing is right to now work one-on-one with the builder community," added Vince Hormovitis, Rockford managing director of business development for powersports.

Rockford Fosgate invites you experience their new Element Ready source units, amplifiers, speakers, and subwoofers during IBEX 2015 (Sept. 15-17), booth #1163. For more information or to schedule an appointment, please contact Vince Hormovitis at [email protected] or (480) 517-3035, or Kevin Kuenzie, Rockford sales manager for powersports at [email protected] or (480) 517-3171.
About Rockford Corporation
Setting the standard for excellence in the audio industry, the Rockford Corporation markets and distributes high-performance audio systems for the car, utv audio, and marine audio aftermarket and OEM market. Headquartered in Tempe, Ariz., Rockford Corporation is a publicly traded company and manufactures or distributes its products under the brand: Rockford Fosgate(R). For more information, please visit: rockfordfosgate.com.