Rockford Fosgate Announced Punch P3S Shallow Loaded Subwoofer Enclosures Now Shipping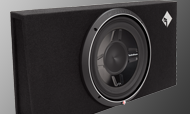 Rockford Fosgate, the industry leader in high-performance car audio systems, announced that its Punch P3S Shallow Loaded Subwoofer Sealed Enclosure line is now shipping. The all new 150-Watt (RMS) P3S-1X8 8-inch, 300-Watt (RMS) P3S-1X10 10-inch, and 400-Watt (RMS) P3S-1X12 12-inch models are perfect for cramped quarters where big Rockford Fosgate sound is desired.
"Nothing fits behind your truck seat?" asked Jake Braaten, Rockford Director of Product development. "Well, Rockford Fosgate has the solution to your problem with Punch 3S Shallow loaded subwoofer sealed enclosures. These loaded enclosures may look small, but they play loud, and thanks to its high power handing and 1-Ohm load wired impedance, you can actually use a powerful amplifier to produce not only the famed Rockford Fosgate signature sound, but you can also let your neighbors know your still blocks away from home."
The Punch P3S Shallow Loaded Subwoofer Sealed Enclosure line features a sealed slim-line wedge design for optimum mechanical power handling, durable carpet with stitched Diamond-R logo, and quick-release input terminals.
Additional Punch P3S Shallow Loaded Subwoofer Sealed Enclosure line specs include:
•Sealed truck box style enclosure
•Constructed with 5/8-inch MDF
•10 AWG input terminals
•Computer optimized design
•Wired exclusively with Rockford Fosgate speaker cable
•Included trim ring ready to accept optional stamped mesh grille insert
•1 Year Standard Warranty
•Complies to CEA-2031 standards
•MSRP: P3S-1X8 ($249.99); P3S-1X10 ($279.99); P3S-1X12 ($299.99)
The Rockford Fosgate P3S Shallow Loaded Subwoofer Sealed Enclosure series delivers the Punch, even in depth limited mounting situations. All vehicles are not the same…some can accommodate deep subwoofers and some can't. In the past, that meant no bass. Not anymore. Now even depth challenged vehicles can have real bass for nearly every application.
Specifications and prices subject to change without notice.
For more information on Rockford Corporation, please visit
www.rockfordcorp.com
.
About Rockford Fosgate
Setting the standard for excellence in the audio industry, Rockford Corporation markets high-performance audio systems under the brand Rockford Fosgate® for the mobile, motorsport, and marine audio aftermarket and OEM market. Headquartered in Tempe, Ariz., Rockford Corporation is a wholly owned subsidiary of Patrick Industries, Inc. (NASDAQ: PATK).