Rockford Fosgate and Proline Car Stereo Rock New York During Rockstar Energy Uproar Festival 2013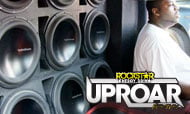 Brooklyn's Proline Car Stereo and Northeastern Marketing participated during the Rockstar Energy UPROAR Festival 2013 stop in Wantagh (Long Island), N.Y. During the event, representatives showed off Proline's "Monsta truck" and gave concertgoers a heart stopping audio experience in Northeastern Marketing's Rockford Fosgate-equipped mini SoundLab. Rockford Fosgate is the official audio sponsor of the summer festival which continues in Illinois, Indiana, and Michigan this week.

Proline's "Monsta truck" wows spectators with the unbelievable amount of Rockford Fosgate audio equipment installed in it. Nearly every inch of the truck's interior is covered with 59 PUNCH Pro Series Midrange speakers and 19 tweeters that consists of 31 PPS4-10, 16 PPS4-8, 12 PPS4-6, and 19 PP4-T. To keep up with all the speakers, Proline installed nine POWER 15-inch subwoofers (T2D215) in a custom wall and then powered the system with an array of 15 POWER Series amplifiers, including four T2500-1BDCP, one T1500-1BDCP, eight T1000-4AD, and two T800-4AD. A computer, aftermarket radio, additional batteries, and eight custom alternators complete the system.

Proline also participated with Rockford Fosgate in Rockford's radio promotion, awarding a $2,500 audio package to a lucky winner in their market, which consisted of a Rockford Fosgate audio system and installation services performed by Proline's professional installation team.

Northeastern Marketing's Rockford Fosgate-equipped mini SoundLab is a high performance demo vehicle built on a 2012 Ford Transit Connect wheelbase. The demo vehicle features a 3,600 Watt pressure chamber with 12 speakers, including six Punch 15-inch subwoofers, and gives participants the opportunity to experience the full Punch of Rockford Fosgate car audio equipment.

The Rockstar Energy UPROAR Festival begins August 9 in Scranton, Penn., and ends Sept. 15 in Chula Vista, Calif. It includes a stellar lineup of multiplatinum superstars and breaking talent, featuring Alice In Chains and Jane's Addiction.

For more information on the Rockford Fosgate Rockstar Energy UPROAR Festival 2013 sponsorship and promotions, visit www.rockfordfosgate.com/promotions.

For more information on Proline Car Stereo, please visit www.prolinenyc.com, or find them at www.facebook.com/prolinecarstereos.

For more information on Northeastern Marketing, please contact Eric Smith, president at 908-769-6900, or email [email protected].

About Rockford Corporation
Setting the standard for excellence in the audio industry, the Rockford Corporation markets and distributes high-performance audio systems for the car, utv audio, and marine audio aftermarket and OEM market. Headquartered in Tempe, Ariz., Rockford Corporation is a publicly traded company and manufactures or distributes its products under the brand: Rockford Fosgate(R). For more information, please visit: rockfordfosgate.com.