Rockford Fosgate & Lightning Audio Participate at 2013 MERA KnowledgeFest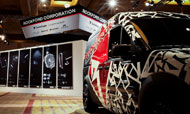 Rockford Corp, the industry leader in high-performance car audio systems, is proud to announce that brands' Rockford Fosgate and Lightning Audio will be represented and participate during MERA KnowledgeFest, held from August 17 – 20 at the Gaylord Texan Hotel & Convention Center in Grapevine, Texas, booth 335.

"We continue to attend KnowledgeFest because it gives us the opportunity to spend time with many of our retail partners," said Theresa Hephner, Rockford Senior Director, Products and Marketing. "Rockford Corporation offers products under several brands to complement our retailers' assortment. We find KnowledgeFest to be an effective way to communicate our brand message and provide product training to our partners, as well as the industry."

During KnowledgeFest, Rockford Fosgate will hold meetings and product training on new and existing products and technologies. Check the daily schedule below and be sure to stop by Rockford Fosgate's booth to check out the new mini SoundLab demo vehicle sponsored by Momentum Sales.

The mini SoundLab is a high performance demo vehicle built on a 2012 Ford Transit Connect wheelbase. The demo vehicle features a 3,600 Watt pressure chamber with 12 speakers, including six Punch 15-inch subwoofers, and gives participants the opportunity to experience the full Punch of Rockford Fosgate car audio equipment.

The daily schedule can be viewed at www.knowledgefest.org.

Rockford Fosgate Product Training
Sunday, August 18
6:15PM – 7:15PM
Location: Grapevine 3
Presenter: Greg Cobbs


During KnowledgeFest, Lightning Audio will hold meetings, present new products, and conduct product training. Training time and location are listed below.

Lightning Audio Product Training
Monday, August 19th
5:15PM – 6:15PM
Location: Grapevine 3
Presenter: Al Congdon


KnowledgeFest was founded in 1993 by a group of retailers and reps in the Midwest who saw the value in mobile electronics retailers getting together to share knowledge and experiences. In sharing successes and failures, all participants become better, smarter and more profitable business people.
About Rockford Fosgate
Setting the standard for excellence in the audio industry, Rockford Corporation markets high-performance audio systems under the brand Rockford Fosgate® for the mobile, motorsport, and marine audio aftermarket and OEM market. Headquartered in Tempe, Ariz., Rockford Corporation is a wholly owned subsidiary of Patrick Industries, Inc. (NASDAQ: PATK).