Rockford Fosgate Achieves True Audiophile Performance With All New POWER Loudspeakers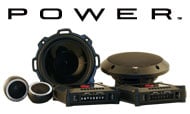 Rockford Fosgate releases entirely redesigned POWER loudspeakers focused on the highest possible audiophile performance.
Rockford Fosgate's new loudspeaker engineering team, headed by Director of Loudspeaker Design, Drew Kallen started with a clean sheet of paper and a vision to close the gap between reproduction and reality.  To that end, innovative technologies were developed.  VAST (Vertical Attach Surround Technique) maximizes cone area, directly increasing output without increasing overall dimensions of the loudspeaker.  POWER component systems also feature treated cloth dome tweeters that connect through audiophile grade component external crossovers boasting a class leading 5% tolerance.
POWER full-range speakers integrate a unique offset cantilever mounted design with 19mm aluminum dome tweeters.  This offset design enhances clarity and detail through the listening experience.
"Every loudspeaker in our POWER range adheres to the same philosophy.   Simply put, we want to make your music better," says Dan Hunter, Rockford Fosgate's New Product Development manager.
A wide range of sizes are available to satisfy the most demanding system architecture including components in 5.25" and 6.5" with 1" tweeters.  POWER full-range speakers range from 4" to 6x9" including a 3-way solution in a 6x9".
"Years in the making, these series POWER speakers are clearly the best Rockford Fosgate has ever offered.  We are very proud of the results".  States, Jake Braaten Director of Brand/Product Development.
Rockford Fosgate POWER loudspeakers will be available at over 800 Rockford Fosgate retailers nationwide, starting July 1st, 2009. T1 POWER coaxial loudspeakers start at $199.99, T1 POWER component systems at $399.99.


---
Rockford is a designer, marketer and distributor of high-performance audio systems for the mobile audio aftermarket and for the OEM market. Rockford's mobile audio products are marketed primarily under the Rockford Fosgate(R), Rockford Acoustic Design(TM) and Lightning Audio(R) brand names.


---
Rockford's primary brand websites include: https://rockfordfosgate.com, http://www.rockfordacousticdesign.com, and http://www.lightningaudio.com and http://www.installedge.com.
Rockford Fosgate is a division of Rockford Corporation in Tempe, Ariz., a publicly traded company under the NASDAQ stock symbol ROFO. Company websites can be viewed at rockfordfosgate.com and rockfordcorp.com
About Rockford Fosgate
Setting the standard for excellence in the audio industry, Rockford Corporation markets high-performance audio systems under the brand Rockford Fosgate® for the mobile, motorsport, and marine audio aftermarket and OEM market. Headquartered in Tempe, Ariz., Rockford Corporation is a wholly owned subsidiary of Patrick Industries, Inc. (NASDAQ: PATK).