Rockford Fosgate 2015 Punch Series Moto-Marine 8-Inch Horn-Loaded Wake Tower Speakers Now Available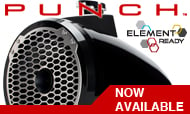 Rockford Fosgate (www.rockfordfosgate.com), the industry leader in high-performance audio systems, is proud to announce that the new 2015 Punch Series Moto-Marine 8-inch wakeboard tower speakers and mounting clamps are now available.

Highlighting the "Element-Ready" product line is the PM282HW, which features a high output horn tweeter that is available in either a black or white enclosure. Other options include the PM282W 2-way speaker (also available in either a black or white enclosure).In addition, the black or white PM-CL1 Diecast Wakeboard Tower Clamps, which are designed for use with both the PM282W and PM282HW, are also shipping.

"Our Element Ready standard takes into account the devastating effects of the outdoor environment and takes extreme measures to ensure optimum performance," Jake Braaten, Rockford's V.P. of Product Development & Engineering. "The 150/300 Watt (RMS/MAX)PM282HW is an 8-inch true marine grade speaker loaded into a sealed enclosure with an optional wakeboard tower clamp. The speaker features a 1-inch horn tweeter and 8-inch woofer in a high density poly-ethylene enclosure protected by a stainless steel grille. Both speaker and enclosure are treated with UV inhibitors and conform to industry Salt-Fog standards."

Additional specifications and technologies for the PM282HW include:
• Impedance: 4 Ohm
• Frequency response: 63Hz - 22kHz
• True Marine Grade compliance
• Hi power Neodymium midrange and tweeter motor structure
• Includes safety lanyard and security TORX hardware
• Malibu® direct mount compatible
• Klippel-verified & CEA-2031 compliant
• Available in black or white
• MSRP: $999.99

The two-way, 100/200 Watt (RMS/MAX) PM282W 8-inch wakeboard tower speaker also includes the aforementioned Element-Ready, True Marine Grade compliance protection, and has an MSRP of $699.99.

"The PM-CL1 is an optional marine grade cast aluminum wakeboard tower speaker clamp designed for use with PM282W and the PM282HW," added Braaten. "The cast aluminum mounting hardware adjusts from 1.5 inches to 2.75 inches and includes a 359 degree rotational mounting capability for unlimited flexibility."

Additional specifications and technologies for the PM-CL1 include:
• Includes two rubberized inserts to accommodate various bar sizes
• Includes allen wrench
• Available in black or white
• Sold in pairs
• MSRP: $79.99

In addition, Rockford Fosgate now provides new "Element-Ready" packaging for its "Moto-Marine" lines. Graphics and text highlight each product's element-ready specifications within these lines, making them easily recognizable so the dealer and consumer can perfectly match the product to their installation and environmental requirements.
About Rockford Corporation
Setting the standard for excellence in the audio industry, the Rockford Corporation markets and distributes high-performance audio systems for the car, utv audio, and marine audio aftermarket and OEM market. Headquartered in Tempe, Ariz., Rockford Corporation is a publicly traded company and manufactures or distributes its products under the brand: Rockford Fosgate(R). For more information, please visit: rockfordfosgate.com.