Rockford Corporation Partners with Predator Motorsports to Launch Audio Upgrade Solution.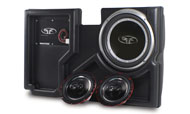 Rockford Corporation (NASDAQ: ROFO) today announced that it has partnered with Predator Motorsports to deliver a dealer option audio solution that adds the Rockford Fosgate® signature sound to factory installed audio systems for the Hummer H2 SUV and SUT.
The Rockford Fosgate PUNCH® Upgrade Solution significantly improves factory installed stereos with an amplified subwoofer and front door speaker components that offer legendary Rockford Fosgate aftermarket quality and performance while retaining the cosmetics and system-specific features of the original factory system.
"The Upgrade Solution brings the famous Rockford Fosgate punch, power and sizzle to Predators' discerning dealers and customers in an integrated and easy-to-acquire solution," said W. Gary Suttle, president and CEO, Rockford Corporation.
"Predator Motorsports is the world's largest manufacturer of quality accessories for the Hummer," said Ryan Wilson, President of Predator Motorsports. "The outstanding reputation of the Rockford Fosgate brand will ensure that we continue to deliver the best experience for our dealers and customers."
PUNCH Upgrade Solution key features include:
Front Stage Upgrade
Factory front door speakers are replaced with high-performance Rockford Fosgate PUNCH 6-1/2" triaxial speakers to deliver the clarity and crispness lacking in most factory systems.
Subwoofer Upgrade
Vehicle-specific subwoofer enclosure under the second row molded to fit the contours of the vehicle perfectly. PUNCH 10" long-throw subwoofers and 150W custom MOSFET amplifiers deliver a dynamic audio impact and are matched to work optimally with the enclosure and factory systems. Subwoofer enclosures can be easily removed to fold seats flat.
System Performance Upgrade
Rockford Fosgate audio engineers tune components to work together as a complete system solution with the existing factory system.
Ease of Installation
The Upgrade Solution includes all necessary wiring harnesses, adapters and templates to allow dealers easy plug-and-play assembly.
Future Supported Platforms
Upcoming vehicles to be supported include the Cadillac Escalade/Escalade EXT, Chevy Tahoe, Suburban and Avalanche, GMC Yukon, Denali and Denali XL.
Availability and Pricing
The Hummer H2 SUV and SUT version is currently shipping with an MSRP of $998.44.
Specifications and prices are subject to changes without notice.
About Predator Motorsports, Inc.
Predator Motorsports, Inc., Vista, Calif., is the world's largest exclusive Hummer accessory manufacturer in the world.
About Rockford Corporation (www.rockfordcorp.com)
Rockford is a designer, manufacturer and distributor of high-performance audio systems for the mobile audio aftermarket and for the OEM market. Rockford's mobile audio products are marketed primarily under the Rockford Fosgate, Rockford Acoustic Design and Lightning Audio brand names.
Brand websites include: www.rockfordfosgate.com, www.rockfordacousticdesign.com, www.lightningaudio.com and www.installedge.com.
About Rockford Fosgate
Setting the standard for excellence in the audio industry, Rockford Corporation markets high-performance audio systems under the brand Rockford Fosgate® for the mobile, motorsport, and marine audio aftermarket and OEM market. Headquartered in Tempe, Ariz., Rockford Corporation is a wholly owned subsidiary of Patrick Industries, Inc. (NASDAQ: PATK).