Real Sound in City Slicker Mini Cooper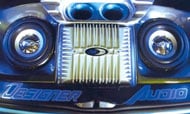 This Mini Cooper, with its cool blue paint, imported plastic bodykit, custom sound install and engine conversion has onlookers green with envy!
Source Unit: Rockford Fosgate
Amplifiers: Rockford Fosgate
Speakers: Rockford Fosgate mids and tweeters
Subwoofers: Rockford Fosgate 8"
Materials: Fiber Glass
Installation Done By: Designer Audio
Download PDF to read entire article.
About Rockford Fosgate
Setting the standard for excellence in the audio industry, Rockford Corporation markets high-performance audio systems under the brand Rockford Fosgate® for the mobile, motorsport, and marine audio aftermarket and OEM market. Headquartered in Tempe, Ariz., Rockford Corporation is a wholly owned subsidiary of Patrick Industries, Inc. (NASDAQ: PATK).