Performance Auto & Sound Features T1D412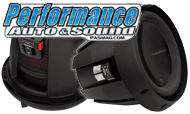 In the high performance car audio world, the Rockford Fosgate brand has certainly made a name for itself as the originator of such legendary products as the Punch 45, Power 650, Symmetry, and the industry's first dual voice coil woofers back in 1989, and they continue to be a leader in product innovation and technology.

While most of us tend to think about electronics when those terms are used, the company also pushes the technological envelope when it comes to their speakers and subwoofers. A perfect exaple of what I'm talkig about was delivered to our lab in the form of the Rockford Fosgate Power Series T1D412 subwoofer.

Download attached PDF to read the entire article.
About Rockford Fosgate
Setting the standard for excellence in the audio industry, Rockford Corporation markets high-performance audio systems under the brand Rockford Fosgate® for the mobile, motorsport, and marine audio aftermarket and OEM market. Headquartered in Tempe, Ariz., Rockford Corporation is a wholly owned subsidiary of Patrick Industries, Inc. (NASDAQ: PATK).