Performance Auto & Sound Features PBR300X1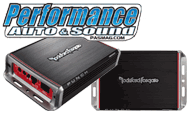 Just when it seemed like everyone had a handle on the various types of amplifiers available for our rides the engineering gurus at Rockford Fosgate have thrown us a curve. For the last 30 years or so, the vast majority of amplifiers used in car audio have been basically one of two or three common topologies.

Back in the 90s, almost all amplifiers were typical Class A/B designs, albeit with variations on the theme.
Then along came Class D, which began with amplifiers designed for bass only, but as technology marches forward, Class D is now fast becoming the standard topology for any type of car audio amplifier. There were a few Class T, G, H, and GH designed sprinkled in the mix, but Class A/B and Class D have always had the lion's share of the market.

Download attached PDF to read the entire article.
About Rockford Corporation
Setting the standard for excellence in the audio industry, the Rockford Corporation markets and distributes high-performance audio systems for the car, utv audio, and marine audio aftermarket and OEM market. Headquartered in Tempe, Ariz., Rockford Corporation is a publicly traded company and manufactures or distributes its products under the brand: Rockford Fosgate(R). For more information, please visit: rockfordfosgate.com.