Mitsubishi D:5 "Mobile Office" Features Rockford Fosgate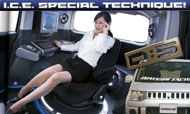 This Delica-special "D:5 Special with MOBILE OFFICE" is E's Corp's (Rockford Fosgate's authorized distributor in Japan) latest show concept. Download PDF to read Japanese magazine article.
No English translation available, but there are lots of very cool photos to check out.
In Japan, Rockford Fosgate provides Mitsubishi an OEM solution for the D:5 which includes an RF 5.1 surround sound system with 12 speakers, 860 watts and a 10" subwoofer.
About Rockford Fosgate
Setting the standard for excellence in the audio industry, Rockford Corporation markets high-performance audio systems under the brand Rockford Fosgate® for the mobile, motorsport, and marine audio aftermarket and OEM market. Headquartered in Tempe, Ariz., Rockford Corporation is a wholly owned subsidiary of Patrick Industries, Inc. (NASDAQ: PATK).