Mercedes Van gets pimped with Rockford Fosgate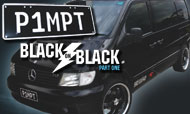 Stroke purchased this 2003 Mercedes Vito last issue. This van was dead stock! Well Konsky has gone all out to pimp this van, to make it look the sweetest ride possible! Konsky wasn't lying when he said he wasn't going to hold back. There has been so many changes made to this Vito, that we have had to break this story up into parts!
System design is head unit / media system in front, 6.5 inch component split speakers in doors and tweeters in the dash, matching 6.5inch co-axial in the rear all running of a 4 channel amp. 2 dual 12inch sub loaded boxes running both of a mono digital amp. Dash was painted colour of car, Rockford bass controller mounted in lower consol of the bass boast, doors were reinforced for house the front woofer mount was built for the dual tweeters under factory dash grill, rear sides also reinforced to house rear speakers, sub boxes placed facing sliding doors to re load off them and increase there impact, amps mounted on custom braces for the floating / free standing look.
Pricing and part numbers
Alpine IVA D100 screen $1999
Rockford Fosgate P162S front splits $349
Rockford Fosgate P162S Rear speakers $349
Rockford Fosgate P450.4 $ channel amp $599
Rockford Fosgate PL2-212 Dual sub boxes $899
X2 Rockford Fosgate P6001BD Mono amp $899
Lighting Audio Wiring kit $150
Install of gear $800

Authorized Rockford Fosgate Dealer
Tower audio Oakleigh
(03) 9568 7355
www.toweraudio.com.au
Authorized Rockford Fosgate Distributor
A.Z. Trading Pty. Ltd.
Stroke Motocross Magazine
www.strokemx.com
Attached PDF contains complete article and photos.
About Rockford Fosgate
Setting the standard for excellence in the audio industry, Rockford Corporation markets high-performance audio systems under the brand Rockford Fosgate® for the mobile, motorsport, and marine audio aftermarket and OEM market. Headquartered in Tempe, Ariz., Rockford Corporation is a wholly owned subsidiary of Patrick Industries, Inc. (NASDAQ: PATK).