MaxPower Features Vicious Renault Clio V6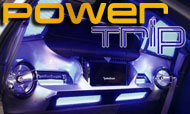 The truly insane spot called Car Radio Systems told Terence, the owner, to leave the V6 with them and pick it up when they called him. He didn't know what to expect. I was anxious to see what they could do." Says Terence, "They've never done up a car like this, so they really wanted to give it a try."
System Design:
(2) P2D48 8" Punch P2 4-Ohm DVC Subwoofer
(1) T600-4 600 Watt 4-Channel Amplifier
(1 Pair) T162S 6.5" 2-Way Component System
(1 Pair) T162C 6.5" 2-Way Full-Range Speaker
(2) RFC1 1 Farad Capacitor
(2) IECAULOC Adjustable Line Output Converter
Download PDF to read entire article.
About Rockford Fosgate
Setting the standard for excellence in the audio industry, Rockford Corporation markets high-performance audio systems under the brand Rockford Fosgate® for the mobile, motorsport, and marine audio aftermarket and OEM market. Headquartered in Tempe, Ariz., Rockford Corporation is a wholly owned subsidiary of Patrick Industries, Inc. (NASDAQ: PATK).