Malibu Introduces 2008 Corvette Limited Edition Sport-V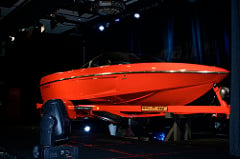 Corvette has remained an icon after 54 years. Uniquely American, it's a symbol of independence, exuberance and driving pleasure. The Corvette Limited Edition Sport-V symbolizes all of these things and bares more than a resemblance to its legendary landlocked brother. It displays strikingly precise styling cues. From the signature Corvette "Cove" tooled into the hull to the authentic Corvette emblems to the power wing windshield to the rear taillight design used for through-hull ventilation down to the authentic Corvette rims on the custom Corvette trailer.
The Cove. No longer just a place on the lake where you hang out in your boat, the Corvette "Cove" is the at-a-glance characteristic that makes the Corvette Limited Edition Sport-V unmistakable. Taken from the C6 design, the cove is uniquely Corvette whether showcased on land or water.
Windows that roll. Malibu engineers paid homage to the thrill of the open road by incorporating windows that roll down into the power wing windshield.
What's under the hood? The Corvette-styled closed bow becomes impressively functional as the bow hood opens to reveal LED lighting, a dual subwoofer high powered stereo system and specific storage centers.
Corvette, even on the inside. The moment you take your place in the authentic Corvette driver's seat, you will be at command central of the Corvette Limited Edition Sport-V .Everything is at your fingertips, from the keyless start with security code activation to the Malibu in-dash LCD and two banks of multiplexed switches with built-in LCD screens. The servo-driven Medallion gauges peek out from the low-brow dash and can be dimmed to three different brightness settings. The feeling of fingertip control is as immediate as you put your hands on the sure-grip performance steering wheel.
Whether you are in the authentic Corvette driver's seat, the passenger's seat or the console-split rear lounge, you will feel the comfort of the plush, 38-ounce Duraguard vinyl seamed with French stitching. Anodized aluminum cup holders, carbon fiber accents, theater-style LED interior lighting are standards that enhance the luxury of this extraordinary boat. The 8-speaker Malibu-Rockford Fosgate Stereo System enables you to create the ultimate, heart pounding, Corvette experience.
Same heart, same soul. To maintain the legendary Corvette performance and renowned speed the Corvette Limited Edition Sport-V is available in both Z06 and Coupe packages. The Z06 delivers the same power as the car with 505 horse power and 470 lb.-ft. of torque from the exclusive LS7 Corvette engine. The powerful 400 horsepower Hammerhead 383 engine makes its home in the Coupe.
Malibu engineers understand that the heart and soul of any Corvette, land or water, is the engine. With a nod to its importance, they have incorporated a clear, Lexan door designed to showcase the LS7 engine, visible when you open the Corvette Z06 boat's rear storage hatches. Twenty-four bright red LEDs showcase this powerful performer.
What does GM say? When asked about the new Corvette boat from Malibu Gene Reamer, Director of Trademark and licensing for General Motors, had this to say. "Once again Malibu Boats did an excellent job capturing Corvette styling cues and introducing innovative features, which is consistent with Corvette the sports car." A big smile came over his face and he added, "…they made this boat go really fast, too!"
Complete with custom trailer. No Corvette boat would be complete without a perfectly matched trailer. Malibu engineers have designed this exclusive tandem axel trailer to incorporate all the special details that say Corvette including official Corvette or Z06 wheels, depending on the model. The trailer is just another flawless rendition of Corvette design elements that shows off this very special boat as only Malibu could.
The Corvette Limited Edition Sport-V Boat's unmatched style, unbridled power, precise technology, global awareness and aggressive modern muscle will certainly make its owners proud and continue its legendary status on the water. The Corvette Limited Edition Sport-V will be sold in limited production through authorized, participating Malibu Boats dealerships throughout North America.
Additional Information
Images
http://www.flickr.com/photos/malibuboats/sets/72157603225218888/
Video
http://www.youtube.com/watch?v=oUr9sFD0uS4
http://www.youtube.com/watch?v=7FEEDei3x6Q
Malibu Blog Entries
http://malibuboats.blogspot.com/2007/11/malibu-corvette-boat-unveiled.html
http://malibuboats.blogspot.com/2007/10/gm-visits-malibu-boats-for-peek-at.html
http://malibuboats.blogspot.com/2007/10/rumor-confirmation-corvette-boat-is_02.html
Related Bookmarks
http://del.icio.us/amymauzy/Corvette
Coupe Features
Coved Corvette Styled Hull
383 Hammerhead Engine (400hp)
Corvette High-back Seats
Corvette Styled Hood
Corvette Styled Rear Vents (through-hull ventilation)
Stainless Steel Corvette-style Exhaust Tips
Multiplexed Switches
8-Speaker Malibu-Rockford Fosgate Stereo System
Keyless Ignition (coded)
Shift-by-wire Throttle System
Stainless Steel Underwater Gear
Custom Corvette Flag Embroidered Cover
Depth Finder
(2) Seat Heaters
3-Outlet Heater
LED Interior Lighting
LED Underwater Lights
Power Wing Windshield
Dual Fuel Fills
Corvette Flag Emblems
Corvette Signature Emblems
Corvette Trailer w/Corvette Wheels

Z06 Features
LS7 Engine (505hp)
Z06 Emblems
Z06 Trailer w/Z06 Wheels
Two-tone Dash
Two-tone Interior
Clear Lexan Engine Hatch Lit by 24 Red LEDs
Options
Illusion XS Wakeboard Tower
Pull Up Cleats
Patented Power Wedge
Available Gelcoat Colors
Black, Arctic White, Velocity Yellow, Victory Red, Stratosphere Blue Metallic, Machine Silver Metallic, Atomic Orange Metallic
Available Vinyl Colors
Titanium Gray, Red, Cashmere, Linen or Black. Black accent available on the Z06 only.
Specifications
Length: 20' 6"
Beam: 93.5"
Draft: 22"
Capacity: 8 people
Weight: 3000 lbs.
Fuel Capacity: 37 gallons
About Rockford Fosgate
Setting the standard for excellence in the audio industry, Rockford Corporation markets high-performance audio systems under the brand Rockford Fosgate® for the mobile, motorsport, and marine audio aftermarket and OEM market. Headquartered in Tempe, Ariz., Rockford Corporation is a wholly owned subsidiary of Patrick Industries, Inc. (NASDAQ: PATK).