Malibu Boats Powers Up With Rockford Fosgate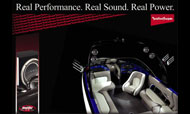 Rockford Corporation (NASDAQ: ROFO) today announced a new, exclusive global relationship with Malibu Boats, Merced, Calif., to deliver its premium Rockford Fosgate audio brand to all Malibu Boats that are purchased with a stereo system option.
Six different factory-fitted Rockford Fosgate audio system options, ranging from a base level 4 speaker system, up to a thumping 1500-watt, 12-speaker system with aggressive 10" or 12" subwoofers, will be offered by Malibu Boats, the world's number one manufacturer of water sports boats.
"Audio enthusiasts want the same music experience in their boats as in their cars," said W. Gary Suttle, President and CEO, Rockford Corporation. "The common denominator is a desire for amazing sound and exceptional cosmetics. Sound good and look good. We are extremely pleased to announce this new relationship with Malibu Boats to offer our Rockford Fosgate signature sound – which delivers the legendary 'power and punch' of our audio systems – in the marine environment."
"We chose Rockford Fosgate because of their commitment to innovation and their unbelievable sound," said Paul Singer, Malibu's Vice President of Sales and Marketing. "The aggressive look of the speakers fit perfectly into our interior design and the precision sound quality is incredible. Having Rockford Fosgate on board gives Malibu the opportunity to take marine sound systems a step beyond," Singer said.
About Malibu Boats (www.malibuboats.com)
Since Malibu's inception in 1982, President and CEO Robert Alkema's mission has been very simple even as the evolution of design and engineering has become increasingly complex: Build the best boat possible. Enjoy your workplace. Give Malibu owners the best value. This is an oath and a standard that the people of Malibu Boats believe they are bound to uphold. They build the best boat and have fun doing it and that dedication bleeds over into everything that wears the Malibu brand.
About Rockford Corporation (www.rockfordcorp.com)
Rockford is a designer, manufacturer and distributor of high-performance audio systems for the mobile audio aftermarket and for the OEM market. Rockford's mobile audio products are marketed primarily under the Rockford Fosgate, Rockford Acoustic Design and Lightning Audio brand names.
Brand websites include: www.rockfordfosgate.com, www.rockfordacousticdesign.com, www.lightningaudio.com and www.installedge.com.
About Rockford Fosgate
Setting the standard for excellence in the audio industry, Rockford Corporation markets high-performance audio systems under the brand Rockford Fosgate® for the mobile, motorsport, and marine audio aftermarket and OEM market. Headquartered in Tempe, Ariz., Rockford Corporation is a wholly owned subsidiary of Patrick Industries, Inc. (NASDAQ: PATK).