Liquid Force in 1967 VW Kleinbuss From Finland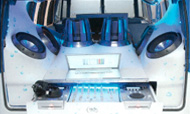 Source Unit
Alpine IVA-D105A

Amplifiers
Power T40001bd
Power T8004
Power T600-2

Speakers
Power T162C
Power T162S
Power T210D2


Attached PDF contains entire article. Sorry, article available in Finish only, but hey, photos don't need to be translated.
About Rockford Corporation
Setting the standard for excellence in the audio industry, the Rockford Corporation markets and distributes high-performance audio systems for the car, utv audio, and marine audio aftermarket and OEM market. Headquartered in Tempe, Ariz., Rockford Corporation is a publicly traded company and manufactures or distributes its products under the brand: Rockford Fosgate(R). For more information, please visit: rockfordfosgate.com.