King Cargo Hosts Panama REAL Training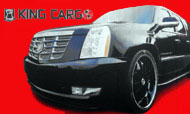 Panama City, Panama – October 2, 2007 King Cargo, Rockford Corporation's authorized distributor for Central America, South America and the Caribbean Islands recently held their annual "Panama REAL Training" the week of September 24th-28th, 2007 with Rockford's staff from RTTI.

King Cargo invited over 100 main distributors throughout Latin America as they came to witness a festive Wild, Wild West theme that generated a lively atmosphere throughout the training. Greg Cobbs, Director of RTTI, went through the 2007 Lightning Audio and Rockford Fosgate product line-up in detail with live demonstrations showing the high performance of the new line of products.

Attendees were also taught how to fine-tune 3SIXTY, Rockford's interactive signal processor. Bryan Schmitt, of Mobile Solutions, was also on hand to teach installers in attendance various installation techniques and fabrication tricks. Owners and installers were also given a presentation to show how they could be more profitable in the install bay. "RTTI delivered a complete and thorough training that will keep our customers ahead of the competition. We expect the best, from the best", states Marco Tellez, President of King Cargo. Adds Bob Chanthavongsa, International Sales Manager, Rockford Corp., "King Cargo's annual training event gets better and better every year. The whole production of the event was flawless, the room was full of energy, and I believe we all fed off the excitement of everyone which made the training that much more successful."




• Watch TV News Article [en Espanol]

• See Panama Photo Gallery
About Rockford Fosgate
Setting the standard for excellence in the audio industry, Rockford Corporation markets high-performance audio systems under the brand Rockford Fosgate® for the mobile, motorsport, and marine audio aftermarket and OEM market. Headquartered in Tempe, Ariz., Rockford Corporation is a wholly owned subsidiary of Patrick Industries, Inc. (NASDAQ: PATK).