Jerome Holman wins AND1 contract and RF system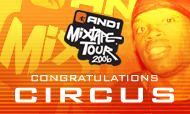 By  Tommy Beer
for HOOPSWORLD.com
Aug 27, 2006, 13:00 
It has been a long summer for the AND1 mixtape crew.  Starting in Los Angeles, CA way back on June 4th, the group has criss-crossed the country in the span of three months.  They have electrified crowds in 25 different cities.  They have throw alley-oops and dunked on locals from Portland, Oregon to Miami, Florida.  On Friday night, the tour reached its final destination - the Mecca of Basketball - Madison Square Garden.  
The crowd was fired up from the very start and the players gave them every reason to stay on their feet.  The fans were brought out of there seats constantly by the patented ridiculous dunks and dribbling displays.  Team AND1 ended up winning, but as we all know, that certainly is not the most important aspect of the night.  The main emphasis is to entertain the crowd, and that was certainly a mission accomplished.     
In addition to the hoops action, New York City was also treated to a special performance by E-40.  The legendary Bay Area emcee stormed the court at halftime and kept the crowd moving by doing a few of his current hit songs.  Styles P from the LOX was also in the building and was introduced by E-40.  In addition, right before the before the second half began, there was an impromptu dunk contest.  The crowd got really excited when "The Air Up There" - who did not play in the game due to a nagging injury - laced up his sneakers and did a few dunks for the crowd in his street clothes.  The were chanting for the "720," which has become his trademark, but he was unable to deliver. 
The second half was much like the first.  Both sides going at each other hard, with crowd hoping to see someone get embarrassed and shamed off the court.  At one point, AO the General threw behind the back alley-oops on consecutive plays, sending the crowd into a frenzy.  AO then took off his jersey, sneakers, and shorts and threw them into the crowd before he ran off to the locker room.  The game ended much the same way it began, the crowd screaming for AND1-style action and the players delivering it.  However, since this was the final AND1 tour stop of the summer, the drama was just about to begin.  
This was the night when another player would be added to the AND1 mix-tape roster.  The winner would receive an endorsement contract from AND1, a $25,000 signing bonus from Old Spice Red Zone, and a car audio system worth $5,000 from Rockford Fosgate.          
The three players that had been battling it out all summer (as chronicled weekly on ESPN2) were Springs, Special F/X, and Da Circus.  All three had provided highlights constantly for weeks on end and each had shown they were worthy of the contract.  Yet, there could be only one winner and he would be crowned at MSG.
Brooklyn is in the House
The AND1 veterans all gathered at center court for the unveiling of the would-be winner's jersey.  While each player was complimented on what he had brought to the table, and a highlight reel of each player's best moves were shown on the jumbo-tron above, a decision had to be made.  Then, as the crowd was hushed, it was announced that the winner was NYC's own, Circus.  The crowd rushed onto the floor to mob the newest addition to the AND1 family.  Circus jumped around the court screaming and dancing, hugging everyone in site.  In fact he was still screaming as he made his way back to the locker room, where Basketball News Services' reporters caught up with him for an exclusive interview.
Jerome Holman a.k.a Circus was born in Brooklyn and attended the legendary St. Patrick's High in Elizabeth New Jersey.  During that time he stayed with the family of his then teammate Al Harrington, currently of the Indiana Pacers and still very close with Circus.  (Samuel Dalembert was also a teammate on that team).  From there Holman went on to attend Wichita State in Kansas.  Since then he had be bouncing around pro basketball's minor leagues, including a stint with the Long Island Sound of the ABA.  He first linked up with AND1 at this same New York open run back in 2005.  This summer, he went to the very first stop on the 2006 tour in Los Angeles.  He spent the next three months battling Team AND1 and surviving numerous cut-down days.  Through it all, he remained on the bus and it all paid off Friday night in his hometown.
When asked to describe his feelings, Circus could hardly get the words out:  "It felt great, Man!!  It seems as though it was almost set up for me as far as the stage. It was a long three months playing against some of the greatest streetball players, and getting into feuds with them...  Just to go all the way from LA to New York, 25 cities, nine elimination games where I could have been possibly sent home and be back in New York not doing anything at all."  Circus continued, "it felt great!  With my family and friends out there - I can't even really explain it." 
Circus also talked about how much it meant to do it at Madison Square Garden.  "It was very special to do it at home.  I told myself coming on that my goal was just to get this point.  This way I could give the fans around the country a chance to see what I could do and then I would just leave it in God's hands.  I accomplished my goal and it turned out as I had hoped it would." 
To no one's surprise, Circus listed that moment as the highlight of his AND 1 experience thus far.  "This is definitely the highlight.  No doubt.  I had a lot of big 30 and 40 point games, but this was amazing.  The whole presentation and everything was just overwhelming.  And its great to do it back at home in my home city.  It was just a great feeling."  When asked about his this moment stacked up against some of his previous basketball highlights, he explained that winning the contract was hard to top:  "Before AND 1, I played at the #1 high school in the country (St. Patrick's).  I played on that team with four McDonald's All-Americans and two future pros.  I was also fortunate enough to play Division 1 at Wichita State a few years ago.  I don't know, tonight is right up there with that state high school championship.  That one was for bragging rights for the school and a trophy, but this one was for money and means so much so this might be number one.  I would put it right up there with that high school title."  
Congratulations, Circus.  And congratulations to AND1 for another immensely enjoyable event in NYC and another summer spent entertaining and bringing smiles to the faces of hoops fans all across America.
About Rockford Corporation
Setting the standard for excellence in the audio industry, the Rockford Corporation markets and distributes high-performance audio systems for the car, utv audio, and marine audio aftermarket and OEM market. Headquartered in Tempe, Ariz., Rockford Corporation is a publicly traded company and manufactures or distributes its products under the brand: Rockford Fosgate(R). For more information, please visit: rockfordfosgate.com.