In-CarTech (Dealerscope) Features 3Sixty.3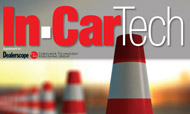 Processor Servers
Back in the day, OEM Integration usually did not make sense when it came to factory head units. Especially when it headed toward Bose or Ford/JBL systems with odd setups. It was usually cheaper to steer the customer to swap decks than to try to jury rig the speaker-level outputs of the head unit, grafting them onto a set of RCA Plugs.

The problem was those older amplifiers usually could not accept the speaker-level outputs, even at the lowest minimum gain setting, without leaving the customer with some sort of a useful volume knob. And, of course, there was the issue of noise fighting a low signal-to-noise radio. 1:1 RCA Isolation Transformers became the go-to piece for adding an amp onto a factory radio. However, there are headaches with this type of install—even soldering the RCA plugs themselves can be annoying. Next came amplifiers with Molex connectors that accepted speakerlevel inputs. That was a big step in the right direction. But what we needed were processors that could handle the voltage of a head unit output while still giving us processing capabilities for better sound. And so AudioControl and Rockford sold lots of processors ...

Rockford Fosgate 3Sixty.3
Fast forward 20 years and those companies are still selling lots of processors. I recently had the opportunity to take an in-depth look at the Rockford Fosgate 3Sixty.3 Surround Sound/OEM Integration Digital Signal Processor and its capabilities are quite amazing for only $699. We're talking 248 bands of equalization, phase control, four EQ presets, multiple slope and classindependent crossovers (it still blows my mind that you can choose not only your slope, but your favorite mathematician who designed the filter you want to use, like Butterworth, Bessel or Linkwitz-Riley).

Dan Hunter, new products manager of Rockford notes, "I was assigned to babysit the new 3Sixty.3 system and make sure we could extend on the features of the 3Sixty.2. One thing that was very important to us and our dealers is Bluetooth Connectivity with A2DP wireless streaming audio. Then, the 3Sixty.3 becomes less of a black box in the trunk that the consumer has little interaction with to something the consumer can use with their smartphone every day."

Getting started is very easy—you just connect the 3Sixty.3 to a computer, and it helps guide you into tweaking the system. A test CD comes with the 3Sixty that has the specialized pink noise tracks, and Hunter noted Rockford is working on getting the tracks on iTunes as a free download for those with 'mechless' head units.

One of the beauties of the 3Sixty system is it 'forces' the end user to use aftermarket amplification, which is a huge sales and installation opportunity for the retailer. Moreover, there seem to be fewer customers that are reaping the benefits of discrete outboard amplification on every channel. It sounds awesome. Especially if the listener's only audio experience to-date has been with white iPod earbuds. Because there are eight output channels, it's possible to have a center channel and even EQ it differently than the rest of the system, all fed to a couple of fourchannel amps in the trunk (or whatever amp configuration you desire).

The setup continues by assigning different names to different loud-speakers around the vehicle. You configure the input channels—for example, you could have a sophisticated BMW with Logic 7 processing. You can take advantage of the processing power (courtesy of Harman) by grabbing those signal inputs around the vehicle and sending them to the 3Sixty.3. You can then assign the output channels and sum anything you like for center channels, or if a factory mid and factory tweet will then be sent off to high-end separates with outboard passive crossovers.

Level matching for best signal-to-noise ratio can be challenging, but the 3Sixty can help get you very close, and then you might fine-tune with an oscilloscope. But one of the coolest features is how the installation technician is able to configure the Rockford remote control. Each dial can be chosen by the end user to be used as a master volume knob, subwoofer level knob or Punch EQ level. Mounting the unit upside-down in an ashtray? No worries, the software even allows for the LEDs to show the current setting to be flipped-flopped depending on how the remote control unit is oriented.

Because this is the third generation of the 3Sixty processor, a lot of feedback has come from installers to create a product that sounds great and easy to work with in the bay. In fact, one of the most unique features is the ability to save the setting profile for a vehicle once you 'cook' the tuning to perfection. A savvy Rockford dealer can have these reference files on hand every time a similar vehicle or install comes in— it can be a great starting point so all that is left is fine tuning.
About Rockford Corporation
Setting the standard for excellence in the audio industry, the Rockford Corporation markets and distributes high-performance audio systems for the car, utv audio, and marine audio aftermarket and OEM market. Headquartered in Tempe, Ariz., Rockford Corporation is a publicly traded company and manufactures or distributes its products under the brand: Rockford Fosgate(R). For more information, please visit: rockfordfosgate.com.