Euro MK3 VR6 Only Admits 1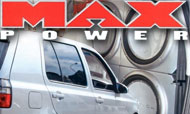 Talk about exclusive!  There's only room for one in this VR6, but stand a little closer if you like to get blown down the street.
Rashied Dollie's VR6 is controlled by a Rockford Fosgate RFX MP3/CD-player source unit and a massive ensemble powered by competition class Rockford Fosgate amps slotted into the customized amp racks where the passenger seat once was.
Source Unit: Rockford Fosgate RFX
Amplifiers: (2) Rockford Fosgate POWER series
Subwoofers: Rockford Fosgate Punch P3 15"
Capacitors: (2) Rockford Fosgate CPCC25 25 Farad Carbon Caps
Download PDF to read entire article.
About Rockford Fosgate
Setting the standard for excellence in the audio industry, Rockford Corporation markets high-performance audio systems under the brand Rockford Fosgate® for the mobile, motorsport, and marine audio aftermarket and OEM market. Headquartered in Tempe, Ariz., Rockford Corporation is a wholly owned subsidiary of Patrick Industries, Inc. (NASDAQ: PATK).