Drift Alliance, "Bad as Hell" the Video Coming to a Store Near You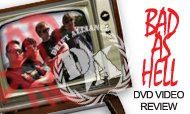 BAD AS HELL (Motorsport Lifestyle – 2006) If it isn't loud and fast it aint @#$%! By Zach Luke No hype and no skits…Drift Alliance, the original attitude spewing kings of drift, gives a sneak peek look into the high-speed lifestyle that embodies the drifting culture. The DVD video, "BAD AS HELL" is not for the faint at heart, no punches pulled…just a non-stop adrenaline rush of high-speed drifting footage set to a bone jarring soundtrack that keeps the blood pressure high. The Alliance (Tony Angelo, Chris Forsberg, Ryan Hampton and Vaughn Gittin Jr.) provide commentary throughout the ride giving insight to what brought them together and what drives them to do what they do. "BAD AS HELL" documents the Drift Alliance, and their rowdy-ass posse, as they travel across the world spreading the drift gospel. From head-to-head competitions in Jersey and Atlanta to demos in Costa Rica…the footage captures the aggressive nature of the sport as well as exposes the fast paced "balls-to-the-wall" lifestyle. Each of the drivers reflect and comment, in their own words, on the sport and lifestyle they've created…from the back roads of PA to the sold out speedways of California, "BAD AS HELL" goes deep with the crew that has remained true to their values and true to their core commitments. Not to compare it to anything, but if I had to…"BAD AS HELL" has the same grit and action of a freestyle motocross or skateboard production. They never hit the brake in this one! It's non-stop lawlessness, on and off the track, and it puts you in the driver's seat, along with every other possible angle. This is a true experience so get in tune, grab a hold of the next big motorsport revolution…find out what is taking the vehicle aftermarket and motorsport industries by storm. Overall As a supporter, sponsor and fan of drifting it is refreshing and about time someone has done a drifting video that shows the American Attitude of the sport! It's about time that someone has captured the speed and intensity of these cars…the speed and intensity of the lifestyle! Those involved in the sport know that its true roots stem from Japan and that those drivers have mastered the fine art of drifting…these 4 crazy bastards just offer it in a different flavor! Release Don't run out just yet, "BAD AS HELL" will be available at most major retailers in April of 2006.
About Rockford Fosgate
Setting the standard for excellence in the audio industry, Rockford Corporation markets high-performance audio systems under the brand Rockford Fosgate® for the mobile, motorsport, and marine audio aftermarket and OEM market. Headquartered in Tempe, Ariz., Rockford Corporation is a wholly owned subsidiary of Patrick Industries, Inc. (NASDAQ: PATK).