Designer Audio Packs RF I.C.E. in Toyota Yaris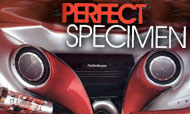 Everything was stripped from the boot.  The two P2 Rockford Fosgate eight inch subwoofers were fitted into a vented enclosure that forms the basis of the installation!
IceSpecifications

Source Unit: Factory
Amplifiers: Rockford Fosgate P450.4 amplifier
Splits: Rockford Fosgate Punch 6-inch (front)
Rockford Fosgate Punch 6-inch (rear)
Subs: (2) Rockford Fosgate  P2 8" DVC subwoofers
Caps: Rockford Fosgate 1-Farad digital caps
Cabling: Rockford Fosgate
Materials: Fiberglass, MDF and loads of metallic paint
Installer: Designer Audio, Pinetown
Driver: Simone van Standen
Download PDF to view the entire article.
Rael Greenspan of Image Audio also has a personal interview in available for download in PDF.
About Rockford Corporation
Setting the standard for excellence in the audio industry, the Rockford Corporation markets and distributes high-performance audio systems for the car, utv audio, and marine audio aftermarket and OEM market. Headquartered in Tempe, Ariz., Rockford Corporation is a publicly traded company and manufactures or distributes its products under the brand: Rockford Fosgate(R). For more information, please visit: rockfordfosgate.com.