Country Clubbing in a Rockford Fosgate Land Rover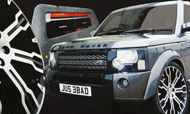 Installation:
- Pioneer AVIC HD1BT
(running through OEM Range Rover source)
- 1x Rockford Fosgate 360.2
- 1x Rockford Fosgate Power T600-4 amp
- 2x Rockford Fosgate Punch P1000-1bd amp
- 2x Rockford Fosgate Power T1 15" subwoofers
- 8x Rockford Fosgate Punch P152-S components
- Sony PS2
- Digital TV Tuner
- 4x Alpine monitors

Download the PDF to read the entire article.
About Rockford Corporation
Setting the standard for excellence in the audio industry, the Rockford Corporation markets and distributes high-performance audio systems for the car, utv audio, and marine audio aftermarket and OEM market. Headquartered in Tempe, Ariz., Rockford Corporation is a publicly traded company and manufactures or distributes its products under the brand: Rockford Fosgate(R). For more information, please visit: rockfordfosgate.com.