Castrol Extreme Show - Durban South Africa.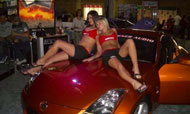 Designer Audio, Image Audio and Unique Auto Sound were the dealers present at the first 2006 Castrol Extreme Show for KwaZulu-Natal. The event was over 4 days (September 22-25,) attracting Durban' car audio and modified car enthusiasts
Audio Motive had the biggest booth with 4 awesome dealer vehicles on display. The public and the media were blown away.
An MAGP event was held over the Saturday and Sunday. Unfortunately for our competitors Rockford Fosgate took all the trophies.
The "Real Babes" contest was on fire adding to the awesome atmosphere of HOT CARS, HOT SOUND and HOT BABES!...
The next Castrol Extreme Show is at the dome in April 2007, see you there!
About Rockford Corporation
Setting the standard for excellence in the audio industry, the Rockford Corporation markets and distributes high-performance audio systems for the car, utv audio, and marine audio aftermarket and OEM market. Headquartered in Tempe, Ariz., Rockford Corporation is a publicly traded company and manufactures or distributes its products under the brand: Rockford Fosgate(R). For more information, please visit: rockfordfosgate.com.