Cash and Prizes Up For Grabs In Rockford Fosgate's 2012 Vans Warped Tour® Promotion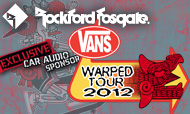 Rockford Fosgate, the industry leader in high-performance car audio systems, is proud to announce the launch of a consumer promotion that coincides with the 2012 Vans Warped Tour®, of which Rockford Fosgate is the exclusive car audio sponsor. The promotion, that launched April 30th, will continue throughout the Vans Warped Tour and concludes on August 5th. The promotion features a $25,000 grand prize, as well as hundreds of other prizes, including entry tickets to Vans Warped Tour® dates, gift packs, and exclusive promotional items.
Beginning April 30, eligible consumers who "Like" Rockford Fosgate on Facebook (www.facebook.com/rockfordfosgate) can enter to win two entry tickets to the Vans Warped Tour® event in the venue of their choice, as well as a Sanctiond™ Automotive Premium Car Care Kit gift bag worth $150. There will be one such winner for tour dates in each U.S. venue, including an additional 12 winners per Vans Warped Tour® stop. Those who enter will also be eligible to win an official custom designed Rockford Fosgate Vans Warped Tour® tee-shirt.
During the tour, Rockford Fosgate will connect dealers with concert goers at each Vans Warped Tour® venue. Each tour attendee who enters and survives the famed Rockford Fosgate SoundLab demo vehicle's 10,000 Watt Pressure Chamber, which will be on hand at all 41 tour dates*, will be given a redemption certificate. The attendee then needs only to visit a participating local Rockford Fosgate dealer with the redemption certificate for a chance to win the $25,000 grand prize, or multiple other cash prizes.
"If the Tour's music and activities alone aren't enough to make every Rockford Fosgate Fanatic anxious for the tour to arrive in their city, the chance to win cold hard cash as well as other cool and exciting prizes will make everyone a believer that the Vans Warped Tour® is the event of the summer," said Bill Jackson, Rockford president and CEO. "We are proud to partner with the Vans Warped Tour, and excited to bring the Rockford Fosgate audio experience to concert goers at all of the Tour's stops across the country."
In 2011, the Vans Warped Tour attracted more than 550,000 concert goers, with 89 percent of those attending the tour faithfully for two or more years. Ages ranging from 15-25 account for more than 90 percent of tour's attendees, with an average age of 18. Over 90 bands will perform during the 2012 tour, including both newcomers as well as high profile artists.
* Vans Warped Tour® events in Canada are exempt from this promotion.
For more information on the Rockford Fosgate VANS Warped Tour Promotion, visit
www.rockfordfosgate.com/vwt
For more information on Rockford Corporation, please visit
www.rockfordcorp.com
.
About Rockford Corporation
Setting the standard for excellence in the audio industry, the Rockford Corporation markets and distributes high-performance audio systems for the car, utv audio, and marine audio aftermarket and OEM market. Headquartered in Tempe, Ariz., Rockford Corporation is a publicly traded company and manufactures or distributes its products under the brand: Rockford Fosgate(R). For more information, please visit: rockfordfosgate.com.