Car Hi Fi Features Rockford Fosgate Matrix In Deutsch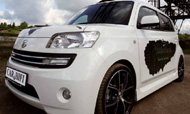 Audio System
Vehicle: Daihatsu Materia (Scion Xb)
Front: Rockford Fosgate Power Series T152S
Front System: RF (3) x Power Series T162S
Coax: Rockford Fosgate Power T162C
Subwoofer: Rockford Fosgate Power T115D4
Subwoofer Amp: (3) x RF Power T1500-1bd
Euro Vierkanal: (3) x RF Power T600-4

Article not translated - Printed in Deutsch (German)
Photos are worth 1,000 words!
Download attached PDF to read article.
About Rockford Corporation
Setting the standard for excellence in the audio industry, the Rockford Corporation markets and distributes high-performance audio systems for the car, utv audio, and marine audio aftermarket and OEM market. Headquartered in Tempe, Ariz., Rockford Corporation is a publicly traded company and manufactures or distributes its products under the brand: Rockford Fosgate(R). For more information, please visit: rockfordfosgate.com.