Car Audio and Electronics Magazine Reviews P3D212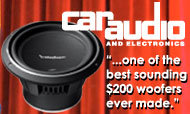 "One of the best $200 subwoofers ever made."

"fit and finish is absolutely excellent"

"ultra clean look-very distinctive"

"very impressive in its ability to reproduce note shifts and tonality of each instrument"

"note shifts were fantastic"

"what more could you possibly ask for?"

Subjective Score Chart
Overall Sound Quality = 42 out of 50
Tonal Balance = 08 out of 10
Low Frequency Extension = 08 out of 10
Clarity at Low Volume = 08 out of 10
Clarity at High Volume = 09 out of 10
Impact = 08 out of 10
Total Subjective Score = 83 out of 100

Car Audio and Electronics Article https://www.rockfordfosgate.com/?external500id=0

Download PDF to read entire article.
About Rockford Fosgate
Setting the standard for excellence in the audio industry, Rockford Corporation markets high-performance audio systems under the brand Rockford Fosgate® for the mobile, motorsport, and marine audio aftermarket and OEM market. Headquartered in Tempe, Ariz., Rockford Corporation is a wholly owned subsidiary of Patrick Industries, Inc. (NASDAQ: PATK).