Car Audio & Electroincs - Rockford Fosgate T15kW, The great hybrid hype is real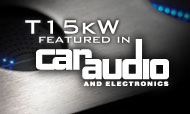 "Rockford Fosgate has developed a new concept in amplifier design, which they unveiled at the 2006 Consumer Electronics Show in the form of the attention-getting T15kW. The gist of this amplifier is to store ungodly amounts of energy, enabling it to produce 15,000 watts at greater than 100 percent efficiency. In other words - achieving the impossible. With our curisity piqued, we went directly to the source, the Rockford Fosgate engineer responsible for the [email protected], Anthony D'Amore, for a little insight on this seeminlgy impossible achievement." Read complete article (attached 3.3Mb PDF):
About Rockford Corporation
Setting the standard for excellence in the audio industry, the Rockford Corporation markets and distributes high-performance audio systems for the car, utv audio, and marine audio aftermarket and OEM market. Headquartered in Tempe, Ariz., Rockford Corporation is a publicly traded company and manufactures or distributes its products under the brand: Rockford Fosgate(R). For more information, please visit: rockfordfosgate.com.