Best Stuff Reviews Rockford Fosgate Punch PBR500X1 Amplifier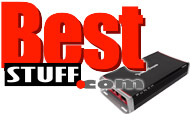 It's literally the size of your hand, and it can drive up to 500 watts RMS into a 1-ohm load, letting you power multiple subs to get more bass. It has proprietary Boosted Rail (BR) amp technology, which uses capacitors and high-speed circuitry to boost the amp's power supply voltage when needed. This way, it can handle massive musical peaks.

With Rockford Fosgate's PEQ wired remote, you can control the subwoofer impact from your front seat. The amp also features speaker-level inputs with signal-sensing turn-on, allowing you to connect into almost any system without having to run a turn-on lead back to the receiver. An extruded aluminum heat sink combines with Rockford Fosgate's heat management technology for cooling purposes.

Read Entire Review Here:
About Rockford Fosgate
Setting the standard for excellence in the audio industry, Rockford Corporation markets high-performance audio systems under the brand Rockford Fosgate® for the mobile, motorsport, and marine audio aftermarket and OEM market. Headquartered in Tempe, Ariz., Rockford Corporation is a wholly owned subsidiary of Patrick Industries, Inc. (NASDAQ: PATK).