Andrew "ACP" Comrie-Picard to Compete at New England Forest Rally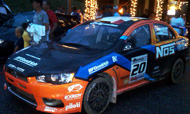 North American Rally Champion Andrew "ACP" Comrie-Picard and his NOS Energy rally team will tackle the fast and rough New England Forest Rally in Maine and New Hampshire this weekend.

The event marks ACP's tenth anniversary as a competitive rally driver in the USA - his first American rally was this event in 2000, when he competed with a 1995 Lada Samara manufactured in the former Soviet Union. That year, he finished mid-field with a 90-hp 2wd car, an excellent result.

This year he returns with a new car that has never been run on American soil - the 2008 Mitsubishi Lancer Evolution X that he built for Mitsubishi Canada as a manufacturer-sponsored entry in Targa Newfoundland 2008. He won the modern division and posted the fastest overall time at that race.

"We've developed this car a lot since Targa" said Comrie-Picard, "and it's as terrific on gravel as it is on tarmac. It's special to be debuting it at this rally where I debuted in America. And this rally has been good to us in the past."

The team has finished on the podium at this event several times over the years, and it was here in 2006 that Comrie-Picard qualified for the first X Games by 3.6 seconds after his hood flipped open, shattering the windshield. ACP lost only 45 seconds over 11 miles of racing with his vision almost totally obscured.

"Yeah, that was a bit hairy," quipped Comrie-Picard, "someone posted a video of it on the internet and you can hear me hit top gear with the hood up, and people are pointing with their hands over their mouths. It's pretty funny."

The team plans a fast but clean drive this weekend, as the car has to leave directly from the rally to be prepared for the X Games in California in two weeks. The EvoX will be part of Comrie-Picard's team at X Games in Los Angeles on July 30-31.

Comrie-Picard has been invited to X Games for a fifth consecutive year to compete in Rally Car Racing, and has also been invited to compete in a new sport, SuperRally, that is a wheel-to-wheel elimination competition with four cars at a time.

Experienced co-driver Adam Kneipp will join the team for the New England Forest Rally, an event known for high attrition and high temperatures. The humidity is very high this weekend in the area of the rally and teams are feeling the pressure in this last round of the Rally America National Championship. More information on the event can be found at www.newenglandforestrally.com

ABOUT THE DRIVER: Andrew Comrie-Picard is the current North American Rally Champion and in 2010 will return to compete in X Games for a fifth time. He also drifts at the professional level for Dodge Motorsports and BFGoodrich in the FormulaD drift championship in a Viper. When he isn't racing, Comrie-Picard works in film, television, and print media as an automotive expert; he hosts the television show Ultimate Car Build-off (http://dsc.discovery.com/tv/ultimate-car-build-off/) airing at 9pm Mondays on Discovery Channel. He lives in Los Angeles, California.

The ACP Rally program is made possible by: NOS Energy (www.drinknos.com), K&N (www.knfilters.com), BFGoodrich (www.bfgoodrichtires.com), Motul (www.motulusa.com), AMS (www.amsperformance.com), Brian Crower (www.briancrower.com), JE (www.jepistons.com), Exedy (www.exedyusa.com), Öhlins (www.ohlinsusa.com), Enkei Wheel (www.enkei.com), Pfitzner Performance Gearbox (www.ppgearbox.com.au), Mishimoto (www.mishimoto.com), Oakley (www.oakley.com), Recaro (www.recaro.com), Innovate Motorsports (www.tuneyourengine.com), Works (www.worksevo.com), NGK (www.ngksparkplugs.com), Rockford Fosgate (www.rockfordfosgate.com), Piloti (www.piloti.com), and Skull Candy (www.skullcandy.com).
About Rockford Corporation
Setting the standard for excellence in the audio industry, the Rockford Corporation markets and distributes high-performance audio systems for the car, utv audio, and marine audio aftermarket and OEM market. Headquartered in Tempe, Ariz., Rockford Corporation is a publicly traded company and manufactures or distributes its products under the brand: Rockford Fosgate(R). For more information, please visit: rockfordfosgate.com.